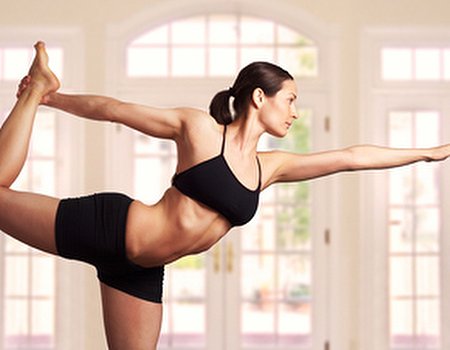 Beginning 2013 with resolutions to get in shape and learn a new skill, I decided to kill two birds with one stone and give yoga a try. Six months later, and having finally progressed to 'intermediate', I can confirm that this resolution has been the most successful I have ever made. However, as my intermediate status implies, I still have a long way to go in my quest for inner peace (not to mention mastering the headstand) and am keen to try out different forms of yoga at different venues. Last week I headed to South Kensington for a little ISHTA Yoga at the plush Evolve Wellness Centre...
The venue
A two-minute walk from South Kensington station, Evolve Wellness Centre is hidden away on a cobbled street just off Old Brompton Road. With vines growing across the front of the building and a reminder to 'take a deep breath…' on the front door, the calming atmosphere at Evolve Wellness is evident before you even step inside. I was greeted with a very warm welcome from the helpful staff (and one very well behaved canine) and shown where to stow my shoes before being guided to the women's changing rooms - which were, by the way, probably the nicest 'changing rooms' I have ever come across. After stashing my belongings in a complimentary locker I made my way to the studio. Decorated with white walls (one bearing a large silvery tree) and wooden floorboards, the room felt incredibly clear, fresh and somehow chic. The perfect place to take a breath.
The treatment
ISHTA stands for Integrated Science of Hatha, Tantra, and Ayurveda and is suitable for all levels – great news for me. For any more advanced yogis out there, ISHTA involves a combination of asanas, pranayama and seated meditation. To any yoga newbies (myself included) that means poses, breathing and, well, seated meditation.
The class began with some gentle breathing (imagining my breath was moving in a figure of eight around my throat, head and spine) then after a few minutes, feeling more relaxed, we moved on to postures. Unsure of exactly what ISHTA involved and the skill level of my new classmates, I felt a little anxious at this stage but was put at ease by a sequence of poses with which I was reasonably familiar (downward facing dog, warrior two and a few sun salutations) and a class full of varying abilities.
When I did struggle the instructor was there to adjust poses, giving the kind of individual attention that is not possible in some of the larger classes I have attended, as well as explaining the reasons behind poses and the effects they have on the body and mind.
After about 45 minutes, feeling stretched but not strained we moved on to the relaxation portion of the class. A bit more breathing, this time stimulating the creative brain, before getting into Shavasana (corpse pose). After a while, fighting the urge to transcend to the land of nod – not the yoga term I should clarify - the class was roused from its relaxation to seal the practice with a collective 'Ohm' chant.
The result
Feeling thoroughly relaxed I bid 'namaste' to my teacher who, noticing I was new, welcomed me, asked my name and how I had found the class. I got changed, poured myself a glass of fresh cucumber water and set off home.
The relaxation section of the class was longer than I am used to and I felt it had a more lasting effect on my evening. I arrived home in a great mood without feeling tired or sore. I went to bed and had one of the best night's sleep I've had in a long time. When I woke the next day I could feel the effects of the class on my muscles, but thanks to the relaxation focus of the class I wasn't left with any of the aches and pains I sometimes experience for a day or two after yoga.
I would recommend this class to anyone with an interest in yoga or relaxation. The venue was lovely, the atmosphere relaxed and friendly and the teacher dedicated and knowledgeable. Evolve Wellness Centre is a west London gem, I'll definitely be going back.