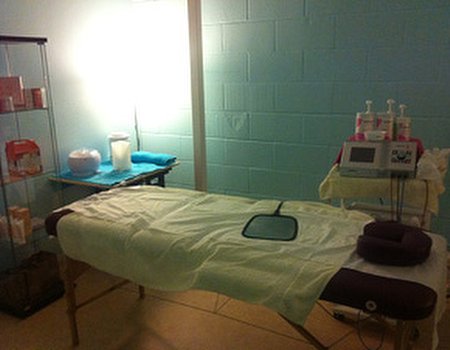 Muffin-tops, jelly-bellies, biscuit-babies; no matter how cute the description, most of us have something we don't like about our stomachs. We'd all love to have abs like Jessica Ennis but an Olympic training schedule is hard to fit in around a job/family/life. Even if we did devote every spare hour to our six packs, there would still be dimply thighs, baggy eyes and new wrinkles to cope with. If only there was some scientific treatment that could help with all these issues and fit into our daily schedules and be a relaxing, pleasurable experience. Well actually, there is; it's called Indiba Deep Beauty and last week we skipped down to Surrey Quays to test it out.
The venue
Situated in the heart of the industrial Surrey Quays, a first impression of Bliss Studios can be misleading. Don't be put off by the concrete block - somewhere inside it lies a little oasis of calm where the lighting is soft, the music is soothing and the therapists are experts, friendly and dedicated to making their customers feel good about themselves. Part of this feel-good service involves a built in photo-studio complete with hair and makeup station available to rent at weekends for a fun day of pampering. But Monday to Friday, Bliss Studios is all about Indiba.
The treatment
Before this treatment I knew very little about Indiba, which is surprising since I seem to have spent a large period of my adult life looking for an easy way to rid my body of the bits I don't like. Indiba Deep Beauty treatments work by rebalancing ions. This helps cells recover their natural function while firming, toning and detoxifying the body.
I went for the tummy treatment designed to drain toxins, accelerate circulation, reduce fatty deposits and cellulite, firm muscles and improve elasticity of the skin. The effects build up after a number of sessions but a one-off treatment like mine is a great way to get rid of nasty toxins left behind by years of coffee, wine and custard creams.
After a brief explanation of how the treatment works and clarifying details like 'are you ticklish?', the treatment began. With a small squeal I lay back on a cool metal plate while my therapist began to wake up my lymphatic nodes, massaging points on my neck and abdomen with a part of the Indiba machine called a 'captive electrode' (not as scary as it sounds) to stimulate the body and channel energy.
Lymph nodes awake, body and mind relaxed, the next stage of the treatment involved a cool cream being massaged methodically into my stomach using the electrode to relax the muscles, drain toxins and dissolve fatty acids. The sensation is a little unusual and occasionally tingly, but overall very pleasant and relaxing. The second part of the massage uses a different electrode called a 'resistive' which targets deeper points in the abdomen, firming and contouring for a longer-lasting, toning effect - aka the most enjoyable workout I've ever experienced.
The result
This treatment works best as part of a course and I was informed that after one session I was unlikely to notice major differences to the shape of my abdomen. What I did notice, however, was that on leaving the session my stomach felt firstly warm, but also firm.
Later that morning I walked back into Wahanda HQ radiating warmth (literally) and tranquillity. As the day progressed I found myself drinking more water than usual - a result of the detoxifying going on inside me – and feeling focussed and energetic without even a whiff of my usual afternoon coffee.
After one session I would love to see the effects of a whole course of this treatment, not just on my abs but my general wellbeing.