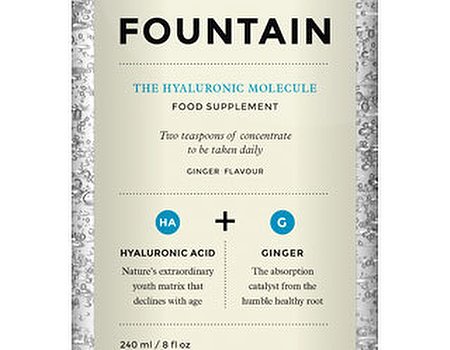 Back in September we brought you news of a new, revolutionary answer to the ageing process: Fountain, The Beauty Molecule. The world's first water-soluble form of beauty boosting molecule resveratrol (found in red grape skins), the elixir helps to slow down the rate of cell division, an inevitable part of ageing. The added Black Carrot and Hyaluronic Acid are anti-ageing bonuses that work together with the resveratrol to stimulate collagen production, smoothing the skin, and actually delaying the ageing process from the inside out.
Following the success of The Beauty Molecule, Fountain have launched another tonic designed to reverse signs of the ageing process. The Hyaluronic Molecule is the first ever bioavailable formulation of anti-ageing hero Hyaluronic Acid and we, among others, couldn't wait to give it a try.
What is Hyaluronic acid?
They're two words we see all over anti-ageing ranges, but what does Hyaluronic Acid actually do? The short answer is it hydrates. Hyaluronic Acid is able to hold 1,000 times its weight in water, which is useful because it's prime function within the body is to lubricate and cushion the joints while providing a natural support structure to the skin.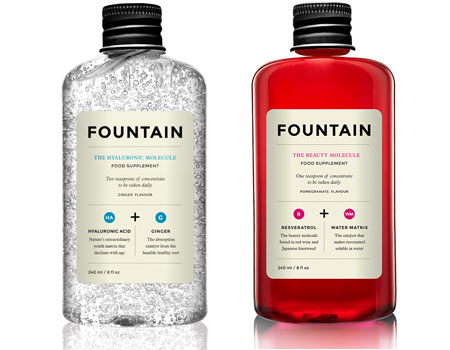 Why drink it?
As we age our bodies lose their natural Hyaluronic Acid (let's call it HA from here on) meaning joints become stiff and our skin looks and feels under nourished and dehydrated. This is one of the most damaging, and obvious, parts of the ageing process (which, by the way, is encouraged by UV exposure) that many of us already try to combat using creams and serums rich in HA. By consuming it in a high concentration liquid form, the HA can be absorbed more easily, able to hydrate from within and helping to cushion joints and nourish the skin.
How does it taste?
After reading (and writing) positive reviews of The Beauty Molecule, we had little doubt that Fountain's newest offering would be met with similar praise. Guess what, we were right. Despite only launching a couple of weeks ago, the reviews have been nothing short of glowing. However, as with any long-term anti-ageing product it'll take a while to really judge the results.
What we can judge now is the taste. Having already tried The Beauty Molecule (which uses pomegranate to sweeten resveratrol's naturally 'unpalatable' taste) we were expecting something bitter taste that would undoubtedly need to be mixed with some kind of potent juice to appease it. When we unscrewed the cap on our bottle, however, we were pleasantly surprised. Flavoured with ginger (an absorption aid), the Hyaluronic Molecule smells like Christmas in a bottle. The taste isn't quite as festive, but the spoonful of spice goes down much easier than we expected with some members of our testing team commenting it was 'alright' and one or two others even saying they liked it, particularly the 'jelly-like texture'.
The verdict
Whether you're a fan of ginger jelly or not, with a recommended dosage of two teaspoons a day it's a much easier route to eternal youth than anything we've come across before.
Available for £27.99 at Boots stores nationwide and Boots.com now.