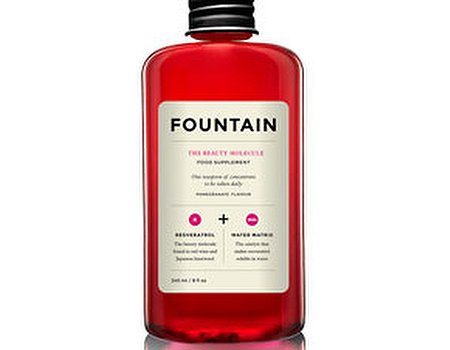 If you've been anywhere near a tube station, bus stop, women's mag, beauty blog or your local Boots, there's a good chance you've already come into contact with this year's most anticipated beauty release: Fountain, The Beauty Molecule.
Thanks to a heavy dose of resveratrol (a natural beauty booster), a daily spoonful of this new supplement is believed to have an anti-ageing effect on the skin. Sounds positively magical (and a little Mary Poppins), but before we throw out our night cream and rushed to drink from this new fountain of youth, we had a few questions. How does it work? Does it work? And, most importantly, how does it taste? After testing it ourselves over the past few weeks, here's what we found…
How does it work?
Ever talked yourself into after work drinks with the classic line "red wine is good for you"? Well whether you knew it or not, you weren't completely telling porkies as one of the key sources of wonder molecule resveratrol is red grape skins. Also found in peanuts and Japanese knotweed, resveratrol is well know for its beauty boosting properties, but, until now, has never been available in a liquid form. Fountain by Deciem is the world's first water-soluble form of the molecule, which has also been distilled it so it is more potent, more easily absorbed by the body and very unlikely to lead to hangovers.
The science bit
As we age, the cells in living organisms divide to make new cells, many of which are uneven or abnormal and lead to several conditions we associate with the ageing process. Resveratrol has been found to slow down the rate of cell division, therefore delaying this process.
Fountain combines this beauty boosting molecule with another potent antioxidant, Black Carrot, and anti-ageing hero Hyaluronic Acid. Together they work to stimulate collagen production, smoothing the skin, while actually delaying the ageing process from the inside out. 

The results
Resveratrol has long been celebrated as a natural beauty booster, and its effects on living cells have been proven. However, as with any new launch that promises to revolutionise the anti-ageing industry there are doubters, including a few scientists who are unsure of the effects of water-soluble resveratrol on human cells.
The product launched in Boots on 7th August and, so far, the reviews have been glowing. However, at less than a month old it really is very early for anyone to judge the results. We've been taking it for a few weeks here and while it hasn't ironed out all our creases (yet) we realise this isn't an instant fix – it's not really magic.
The basis of the development of The Beauty Molecule, according to Brandon Truaxe, CEO and Founder of Deciem is about promoting beauty through better health. He says: "Resveratrol has been proven to benefit structures throughout the body, including the skin. The basis of the development of Fountain, The Beauty Molecule, is that health and beauty are one and that beauty really begins when all tissues are healthier."
So, how does it taste? We have to be honest. It's not exactly red wine… Deciem say it themselves, resveratrol, on its own has an unpalatable taste. To sweeten the flavour, they've combined it with pomegranate but the effect is still rather bitter. Mixed with water the flavour is diluted but not disguised enough for our delicate taste buds. If you're serious about taking it daily – which, having done our research, we are - we recommend you mix it with juice and make it part of your morning ritual. Bottom's up!