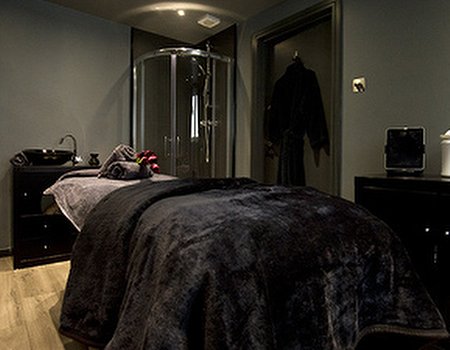 We're approaching half term, which means we've officially reached the half way mark between summer and Christmas and we could all use a break. Hooray for school kids and teachers, but what about the rest of us?
It's months until the next bank holiday and we barely even remember the summer, so we reckon we deserve a break too. We deserve the opportunity to soothe our tired muscles and aching bones. To relax our mind, renew our faces, and generally drift off to somewhere nirvana-like for a couple of hours.
We've heard of a treatment that promises to do all that and more; it's called the Elemis Absolute Spa Ritual Experience at Anesis Spa and it sounds incredible. But before recommending it to any tired-out Wahanderers, we thought we'd better go and test it out for ourselves - just in case...
The venue
Situated a two minute walk from Clapham Common station, Anesis Spa is a little bit of calm in this bustling pocket of south west London. It might look small from the outside, but Anesis Spa spans three floors and has a number of different treatment rooms. Inside, the walls are dark and the lighting is soft meaning the transition from the outside world to a place of utter calm begins the minute you step through the door.
Head past the fish tanks where other guests are enjoying a fish pedicure (one of the salon's signature treatments) and take a seat on one the fabulous snake skin sofas in the waiting room – this place is glamour all round. When it's time for your treatment you'll be led up the stairs, along a gently lit corridor to your treatment room where - if you're as lucky as I was - you'll find a red rose waiting for you on the massage table.
The treatments
Inside the treatment room my therapist Gabriella explained the two hour treatment I was about to receive. The Elemis Absolute Spa Ritual Experience is the number one bestselling package at Anesis and it's easy to see why. The first hour involves a heavenly full body Deep Tissue or Wellbeing Massage, using Elemis products containing essential oils. The second is a facial which, after a quick Q&A about your skin, is catered specifically to your needs. I couldn't wait to get started.
Gabriella gave me some privacy while I wrapped myself in a towel and got into position on the massage table, all the while enjoying the scents and sounds (rainforest I believe) of my surroundings. Before we began Gabriella asked me, "How do you like your massage?" I had to admit I hadn't had that many in my lifetime but from now on my answer will be "just like this one". The massage – which was somewhere between a Swedish and deep tissue - began with my upper back and worked its way down to my feet, untangling any knots it came across. I rolled over and Gabriella worked her way back up, finishing with a relaxing but invigorating head massage.
Thoroughly relaxed, the facial began. A sequence of cleansing, toning and gently massaging my skin was repeated for an hour interposed by two face masks which were left on for somewhere between five and ten minutes – I'll admit that by this point I'd lost all sense of time and actually nodded off during the first mask. All I knew was that I didn't want it to end.
The result
The end of the treatment was indicated with the chiming of a bell. I opened my eyes feeling more relaxed than I had been in a long time. Gabriella told me that my skin was glowing and instructed me to avoid makeup for the next 24 hours (a frightening prospect) and to spend the evening taking it easy (a less frightening prospect) to ensure my face and body had the chance to really appreciate the effects of the treatment.
I got dressed and had a look at the results; my face really was glowing - my skin felt soft and the muscles in my back felt like they had been replaced by ones that had never lifted a heavy handbag or done a day's work. I left the salon determined to follow Gabriella's advice and get the full benefit from the treatment. The next day I went to work wearing only powder on my face – something I'm not usually comfortable doing - and actually received compliments on my skin.
I was delighted with the results of this treatment and would definitely recommend it to anyone counting down the days to their next break - why not check out their great spa offers and book a treat?