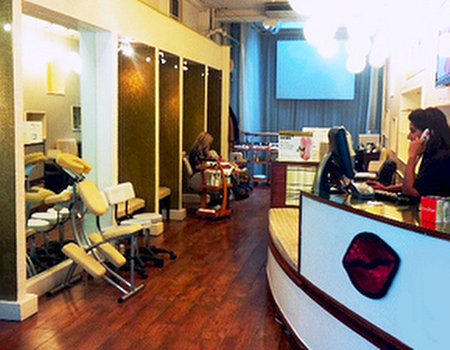 After what seems like years of hiding our feet away in thick socks, winter boots and cosy slippers it's nearly time to get them out again. We're very excited about warmer temperatures and the new wardrobe options they bring. What we're not so thrilled about is all the work it'll take to slip our neglected winter feet into a pair of dainty spring pumps without resembling one of Cinderella's ugly sisters.
That's right Wahanderers, it's time for a pedicure. And if your tootsies have been in hiding as long as ours it'll take more than a lick of pastel paint to set things right. To bring winter feet out of hibernation they need special treatment. We're talking deep exfoliation and lot of love and care. Well just in time for spring we've tried and tested just the thing, the Electric File at Cucumba.
Venue
Situated a stone's throw from Oxford Circus, in the heart of bustling Soho, Cucumba on Poland Street is known among locals as an 'urban pit-stop'. That is, a place to go for emergency beauty treatments where they guarantee to squeeze you in and let you out before the end of your lunch break. I tested this promise when after interviewing the lovely James and Viviene, I was offered a quick and thorough pedicure before heading back to the office.
A first impression of Cucumba is that it is not your typical salon (I later learned that they do not even use the word salon). The walls and furnishings are a mixture of green, cream and odd dash of gold that shout 'fresh' at you the minute you walk in. There isn't a touch of pink or any other 'girly' colours to be seen – a deliberate ploy from co-creator and self-confessed tomboy Viviene to create a beauty space that would welcome all – girly or not.
From the friendly staff who greeted me, to the modern and humorous decor (the 'New York', 'Essex', 'Sydney' clocks on the wall are a great touch) everything about this venue is fun, friendly and relaxed. As I took my seat and removed my shoes I felt completely at ease.
Treatment
I'll admit this sense of ease faded slightly when James explained the concept behind the treatment: shaving away dead skin with a small electric file. James reassured me the treatment would not hurt and that it is much safer and better for the feet than other treatments that use razors. He then showed me the file in action and I was relieved to discover it was nothing like the dentist drill I'd imagined. The head is like a mini sander, no longer than an inch in length which, when switched on, emits a thoroughly un-scary, low whirring.
With my feet up and an extractor fan in place to gather the 'dust', James got to work. Not entirely convinced the electronic device wouldn't hurt me I braced myself for how it would feel against my skin then let out a sigh of relief and faint giggle when I felt it's gentle tickle.
Throughout the treatment James used two different heads to guarantee a deep exfoliation. Focusing on my dry heels (apologies for any unpleasant mental images) he maneuvered the file around my foot and in between my toes ridding them of any hard skin that may have built up since last spring in less than ten minutes. I'd painted my toenails the day before so didn't need the polish that usually accompanies the treatment. Fortunately, Cucumba are famous for their willingness to adapt treatments to suit your needs and time limits so I was able to swap my polish for a little extra foot massage before heading back to work.
Results
As someone who tends to live in ballet pumps and flip flops during the warmer months, I am always on the look out for products and treatments that can rid my feet of the thick skin that accompanies a fondness for thin soles. In the past I have been disappointed with pedicures that, despite leaving my toes looking pretty, are just too gentle to do anything about this problem. The electric pedicure, although gentle – and occasionally ticklish - did not disappoint.
I couldn't believe the difference the treatment made to my skin. After less than ten minutes my suffering soles were transformed. No longer dry or cracked, they looked smooth and felt baby soft to touch. I used to think it took drastic measures like razoring – which I was never daring enough to try – to achieve these kind of results so was delighted to discover that this fast, pain-free and, above all, safe treatment is just as effective. I would recommend this treatment to anyone who wants to get their feet looking tip-top for spring – especially if you have a fondness for soft-soled shoes. Although, ticklish tootsies beware, this treatment might make you squirm.