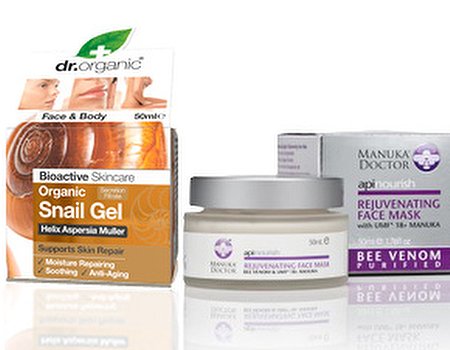 Snail slime, venom, bird poo and placenta. How far would you go for a youthful complexion? They might sound like the kind of drastic (and slightly gross) beauty secrets of a fairy-tale villain, but in recent years a trend has developed for putting weird, wonderful and just plain wacky things on our faces. Where a trend begins you're sure to find a celebrity or two, which might explain why Posh Spice is such a fan of the not-so-posh-sounding birdpoo facial, why Eva Longoria isn't put off by a bit of placenta and why Demi Moore (who does seem to know something the rest of us don't about eternal youth) is partial to a spot of leech therapy. This week we joined the A-list (sort of) and proved that we're not afraid to get our hands dirty in the name of beauty by testing out two of the most surprising beautifying products on the market…
Manuka Doctor Rejuvenating Face Mask – tested by Marianne, Assistant Site Editor
I've been desperate to try Manuka Doctor's Bee Venom Range ever since I heard Millie Mackintosh was a fan (and brand ambassador). Say what you want about Made in Chelsea, there's no denying Millie has great skin. Mine, on the other hand, has a tendency to become dry, look dull and (no matter what my mum says) is beginning to show signs of ageing. I'm always on the look out for products that promise to breathe life into it and with 10,000 (bee friendly) bee stings per pot, this Rejuvenating Face Mask promised to do just that (as well as moisturise, refine the surface and boost collagen production).
After cleansing I applied a small amount (as a little goes a long way) to my skin and prepared to feel the effects of the venom. Having previously used a harsher venom product on my lips, I was expecting a sting but was pleasantly surprised by a very gentle tingle that quickly turned into a cool, soothing sensation. I left it on for 30 minutes (the instructions say 15-30) then removed with a warm flannel. My skin felt instantly soft and smooth but what really impressed me was that the effects didn't wear off. When I woke up the next morning my face still felt soft and looked clear. I can't wait to see what happens used on a weekly basis.
Available for £49.99 from www.manukadoctor.co.uk
Dr Organic Snail Gel – tested by Becca Crutchley, Community Manager
I'm not going to pretend I was hugely excited by the idea of rubbing snail slime into my face, but after reading a few glowing reviews I was definitely intrigued. A little research told me that this wonder product was discovered when snail farmers in Chile noticed their hands had become incredibly soft and that any cuts or scratches they developed were healing super-fast. Clinical tests proved that 'snail filtrate' (to give it its more scientific name) is anti-bacterial and contains high levels of collagen, elastin and allantoine (a stimulant for regeneration), making it ideal for soothing and moisturising the skin as well as combating signs of ageing.
Slightly hesitant, I was put at ease when I was heard that no snails are harmed in the making of the product, and when I opened the jar and discovered a clear gel and minty, citrus smell – not the bubbling witch's brew I was expecting. Although the formula looks like hair gel it's not at all sticky, but it does take a few seconds to dry on your skin. I tried using it as a moisturiser and actually found it a little drying, however when used before my normal moisturiser I was left with a really smooth, soft base for makeup and felt that my skin stayed hydrated (without being oily) all day. I've been recommending it ever since.
Available for £19.99 from Holland and Barrett