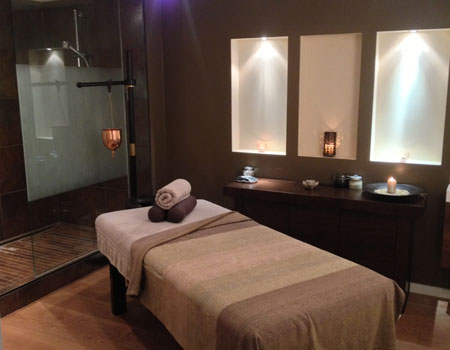 Sufferring from naturally dry, slightly sensitive skin, when the weather took a sudden Arctic turn earlier this month I didn't cope particularly well. As fellow sensitive souls will be aware, for people like me winter skin means itching, dryness and hours every day devoted to the careful application of moisturiser. When I was offered the chance to visit one of Wahanda's newest venues,Samsara Mind and Body, to try out a treatment that combined skin reviving, cellulite reduction, (over time) weight loss and red wine, I jumped at the chance…
The venue
Located in Southfields, southwest London, Samsara Mind and Body is part yoga and pilates studio, part healthy - although very tempting – café and part pampering spa. After a five-minute walk from Southfields Tube Station I arrived and, after some initial difficulty locating the door (the walls are floor to ceiling glass), I found myself inside the bright, airy and delicious smelling Samsara café. My therapist Ricardina came to welcome me and lead me to a treatment room, leaving me to get ready in private. Having visited spas and salons with a similar health/wellbeing focus in the past I wasn't sure what to expect from the pampering side of the venue, but inside the candlelit treatment room (complete with earth tones, flecks of gold and the unmistakable scent of some very expensive products) I was pleasantly surprised.
The treatment
I visited Samsara for the Caudalie Cabernet Crush Scrub and had no idea what to expect from the treatment. Before it began Ricardina gave me some disposable underwear to put on which, ordinarily would have made me a little uncomfortable, but a combination of dim lighting and her tactfulness (leaving the room while I changed and knocking before returning) meant I wasn't at all embarrassed.
The treatment began with Ricardina massaging the scrub into my legs. 'Scrub' is a horrible word because it suggests an element of scratching or discomfort but, made from a combination of grape-seed, honey, brown sugar and essential oils, the cabernet scrub isn't like that at all. Although I could feel small granules on my skin the experience was more like a vigorous massage than the scouring I'd been half expecting.
As Ricardina continued to work on my back and arms she explained to me some of the benefits of the scrub. Caudalie, the brand behind the treatment, began making natural cosmetics on a vineyard in Bordeaux using anti-ageing polyphenols found in grapes (something other brands have since caught onto, including, most recently, Fountain's legendary Beauty Molecule). In this treatment Caudalie combine these anti-ageing properties with exfoliation (good for cellulite), a 'Contouring Concentrate' (to help shave off an inch or two) and Nourishing Body Lotion to leave skin clean, refined and very smooth.
Feeling very relaxed, Ricardina let me know we were halfway through the treatment and that it was time for a quick shower – fortunately there was a rather luxurious one fitted in the corner of the room. Ricardina left me alone to rinse off the scrub and change into more disposable underwear – which didn't phase me at all this time – before getting back into position and starting part two of the treatment – the massage.
A little while later, just about awake, Ricardina let me know it was time to get dressed and head out to the café for part three of the treatment: tea. Not just any tea though, while I'd been getting ready Ricardina had brewed me a cup of Caudalie's draining herbal tea – a combination of red vine, cinnamon, blueberry, cassis and sweet orange zest that would help me reap the full benefits of the treatment, ridding me of toxins and even encouraging weight-loss.
The results
From the minute I stepped into the shower to rinse off the scrub, I could feel a difference in my skin. It felt softer and smoother and was completely free of the fake tan residue that had been lurking for a while. As a one-off treatment, this is great for anyone suffering from winter skin syndrome or (as Ricardina suggested) anyone preparing to don a daring or backless dress this party season. As part of a course, the treatment is also designed to reduce cellulite. I wasn't expecting miracles after 60 minutes but after one treatment – and this may be the effect of the red wine fumes - I did think I could notice a difference. I really enjoyed the experience and was genuinely impressed by the results and – although originally booked to sort out my winter skin – I'm already thinking of investing in a course in time for summer.