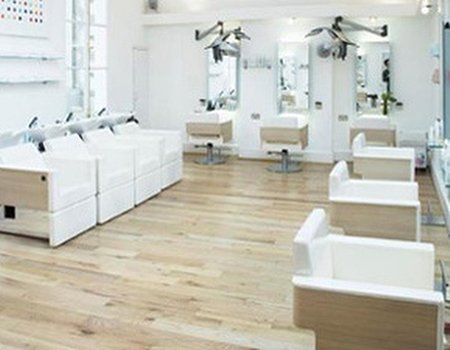 When Guns 'N Roses wrote their anthem 'November Rain', they probably weren't wintering in the UK. Over here, November rain is hardly something most of us would choose to sing about. In fact, a few of us here at Wahanda would go as far as saying that we hate November rain. Why? Because it plays havoc with our hair.
When it's raining heavily we won't leave the house without a hat, hood and umbrella. But on those days when it's just sort of drizzling, we feel silly putting up an umbrella, but know that a hat alone won't cut it – not to mention the hat hair. We've heard of a treatment that promises to fight frizz and keep hair sleek and manageable for up to five months: the Keratin Blow Out. Fancy silky smooth hair all through the winter? Us too, that's why last week we headed to Joe's salon in Mayfair to try their famous (and our first ever) Keratin Blow Out.
The venue
For those of you who have not visited the opulent Burlington Arcade, you're in for a treat. This covered walk-way in the heart of Mayfair is full of beautiful boutiques and expensive jewellers, and tucked away behind a discreet wooden door (I walked past twice) sits the fabulous Joe's salon.
Through the door and up a flight of stairs I was greeted by a very friendly receptionist who took my coat and handed me a 'Joe's Salon' robe. She led me to the salon where I was given a seat, a magazine and a cup of tea. From the impressively up-to-date magazine selection to the dazzling white decor, the salon is modern, chic and extremely comfortable. With a window seat over-looking the arcade I was sure this was going to be a hair experience unlike any I'd had before.
The treatment
I've always been a bit cautious about getting my hair cut, so when Tolga, my stylist, suggested I'd benefit most from the treatment if we started with a trim I was a bit scared. I explained to Tolga that I wasn't prepared for a cut, and although he'd like to have taken more off the ends he really listened to what I wanted and gave me a cut I'm really pleased with.
After a wash and a trim it was time to begin the keratin treatment. My wet hair was divided up and systematically covered in a keratin solution and combed through. Satisfied my entire hair was covered, Tolga informed me we had to leave the solution on for ten minutes, offered me another cup of tea and left me to relax with my copy of Stylist. Ten minutes later I was led back over to the washing station where the keratin was rinsed out and we were ready to begin the blow dry.
Working with one small section at a time, Tolga began blow drying my hair smooth. I looked up from my magazine and saw rather a lot of steam coming from the brush but he reassured me that that's supposed to happen and is a sign of the keratin responding to the heat. Phew.
I should probably inform readers that I have rather a lot of hair and have been told this by many hairdressers (Tolga included) who have blow dried it. Needless to say my hair takes longer to blow dry than some, but Tolga was incredibly thorough, taking his time over each section and making sure my entire hair was smooth and sleek.
After the blow dry I couldn't believe how glossy my hair looked, but the treatment wasn't over yet. The final stage involves sealing the keratin using hot tongs. Again, my hair was divided into sections and each one ironed. The effect was a little straighter than I usually wear my hair, but Tolga reassured me that after I washed it my hair would look a bit more natural only glossier and more manageable. It was also at this point he also told me I couldn't wash it, wear it up, tuck it behind my ears or pin it for 72 hours. I thanked him for his hard work and left the salon trying very hard not to touch it.
The results
The next 72 hours were both the hardest and easiest of my hair's life. The hardest because I had to fight my compulsion to tuck it behind my ears, and the easiest because every morning I woke up my hair was as straight and sleek as it had been the night before meaning I only had to give it a quick brush and I was good to go.
It wasn't until the 72 hours passed and I was finally allowed to wash my hair (with Keratin shampoo) that I could truly see the results. Just washing it, my hair felt more manageable. Blow drying was a breeze and when I finished off with straightening tongs the effect was glossier than I've ever seen it. Best of all, when I took it for a test drive in Sunday morning's dew I was delighted to find it didn't frizz at all – this has never happened before.
I am delighted with the results of my Keratin Blow Out. I have already had so many compliments from friends and family, I would definitely recommend it to anyone who has ever suffered at the hands of damp weather. What's more, I would recommend having it at Joe's. The the salon is beautiful, the staff are lovely (Joe himself very entertaining) and the whole experience was thoroughly enjoyable. I'll definitely be going back in five months' time.