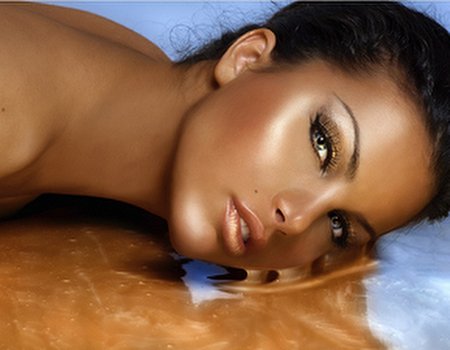 It's officially the second week of spring here in the UK, but it would seem someone has forgotten to inform the sun. Without it, that gentle breeze is just another gust of cold wind and those April showers are - as well as being a month early - a little too 'cats and dogs' for our liking. Here at Wahanda we like to look on the bright side of things, but when the sky's this grey and the temperature's this low there's really only one way to bring a bit of sunshine into your life: fake it.
Nothing beats the glow of naturally sun-kissed skin, but when the old fashioned way isn't an option there's no harm in faking it – as long as you're convincing. Anyone who's ever told a little white lie – or, ahem, faked anything else for that matter - will know that it's all fun and games until you get caught out. Luckily for you we've put together the top ten rules to faking it like a pro. Behold the Tan Commandments…
1. Thou shalt always exfoliate before tanning
When you apply self-tan it reacts with the top layer of your skin causing it to change colour. This outer layer is made up of dead skin cells that last for seven to ten days before shedding – each at a different rate. When the cells shed they take their colour with them leaving skin looking blotchy and uneven. If you want your glow to last always exfoliate before tanning to ensure you begin with an even layer of cells that will shed at the same time.
2. Thou shalt always wear gloves…or a mitt
They say you can always tell a woman's age by looking at her hands. Well, you can often tell if she's been fake tanning too. Tanning with bare hands leads to tanned palms. However, washing said palms before the tan can dry leads to streaky fingers and wrists. The solution? Invest in a tanning mitt, which will also minimise streaking. If you happen to have any latex gloves lying around – we're not asking why – these can be just as effective.
3. Thou shalt wear loose clothes
If all this self-tanning business sounds too much like hard work and you've decided to go for a spray tan remember to wear something baggy. Putting on tight fitting clothes after a spray tan will not only risk rubbing off some of that colour before it's had a chance to work, it also makes for an uncomfortable journey home and a 'biscuity' smell that will linger in your clothes for days – not as yummy as it sounds. When you go for a spray tan wear loose, light layers. A summer dress or jogging bottoms both work, depending on weather and personal style.
4. Thou shalt not shower for six to eight hours
We know the smell can get a bit much, and the process can interfere with your plans for the day, but showering too quickly after fake tanning is close to sinful – to us anyway. Unless you're going for the streaky look – which we do not recommend – it is important to avoid water until your tan has dried completely. Make life easier and tan before bed so your colour can dry and develop while you sleep. Wake up looking tanned, feeling gorgeous and smelling a little funky – time for that shower.
5. Thou shalt get help when tanning thine back
No matter how long your fingers or how accomplished you are at yoga, tanning your own back will always be tricky. If your friends are busy or reluctant to become your personal back tanner, there is one way to DIY – and it involves moonwalking. Using a spray on self tan like St Tropez Self Tan Bronzing Spray, spray liberally over your shoulders before walking backwards into the mist. We might sound crazy but the effects will be more even and subtle than attempting the straight jacket manoeuvre.
6. Thou shalt avoid streaks at all costs
No matter how carefully you have applied your tan there will always be those tricky areas that attract streaks like wrists, ankles and between your fingers. Unless you're using an instant tanner it's impossible to tell if you have streaked until the tan has developed, by which point it's too late – catch 22 or what? Try rubbing a dry loofah or flannel on these areas before the tan has set in to even things out and remove any excess.
7. Thou shalt start with the feet and work upwards
Here's one we've learned from experience. When you're attempting a full body tan on your own start with your feet and work your way up. Starting at the shoulders and working your way down means bending over while covered in wet tan and forming creases across the belly – we're trying to get rid of wrinkles remember.
8. Thou shalt beware DHA
Dihydroxyacetone or DHA is a colourless sugar used in self-tan that reacts with the top layer of skin causing it to darken. Too much DHA causes that orange look we all know and avoid and occurs when we build up too many layers or use a tanner with too high a percentage of DHA for your skin type. Always do a patch test before covering yourself in tan to see how your skin reacts to it. If the colour looks a little orange go for something with a lower DHA percentage. Who knew it was so scientific?
9. Thou shalt not wear deodorant
Yes you read that right, but don't worry we haven't lost our sense of personal hygiene. Deodorants create a protective layer on your skin which can prevent fake tan from being absorbed by the skin leading to tell tale white underarms. It's hardly the weather for vest tops so pale pits might not seem like a big deal, but be warned some tanners can react with deodorant and cause the skin to take on a greenish colour. Not a good look.
10. Thou shalt moisturise, or not…whatever
While some tanners believe that applying fake tan to moisturised skin will prevent it from being absorbed properly others say it's a must, especially on dry areas like elbows and ankles. The truth is it differs from person to person. If you are prone to dry skin steer clear of oil-based moisturisers (look for something that lists water as its first ingredient) or try a gradual tan moisturiser so you can have your cake and eat it too. Mmm, cake.