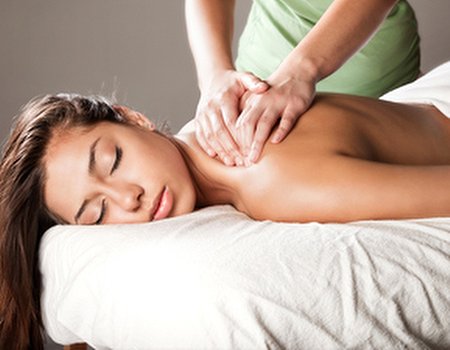 We've spent the last week and a half preparing for a season that, to put it politely, is running pretty darn late. Our nails are painted, our legs are hair-free and our tresses have been tousled into soft beachy waves. In short, we look good, but with wintry weather forcing us to cover up from head to toe we can't help but feel it's a wasted effort. Don't lose hope just yet Wahanderers, there's sunshine round the corner - we can feel it in our bones. Besides, we're more than half way through our spring warm up and we've reached the best day of all: massage day.
Designed to prepare your body and soul for the coming… oh what the heck. It's miserable and cold outside and no one's had a chance to admire our very convincing tan. We deserve a massage so therapeutic and relaxing we'll forget all about winter. Lucky for you guys we know just where to go…
Thai London Therapy
If you're trying to escape the long-lasting winter blues but can't afford the fare to The Land Of Smiles, a trip to Thai London Therapy really is the next best thing. Ok, they can't promise sunshine or golden beaches, but Thai London can promise the most authentic and effective Thai massage outside of Thailand. All therapists are highly and specifically trained to expertly tailor massages to suit individual needs using a combination of hot stone, Thai yoga, reflexology, deep tissue and bamboo massage. Situated above a personal training gym near Marylebone, this place is something of a hidden gem. Fortunately, when it comes to a good massage, we at Wahanda have a nose like a 'truffle pig'. We went to visit Thai London when it opened last year and we've been raving about it ever since.
appuru
appuru is known for two things. Number one: their allegiance to natural and organic products and treatments. Number two: their massages. What sets their massages apart from other spas and salons? Well, for one thing they're a family run business with a real passion for what they do, but on top of that, they are the owners of one of the most comfortable heated massage beds in the capital – just read some of the reviews. appuru's massages are so tailored towards individual needs, that the even the oil used in your treatment will be selected depending on your mood. For optimum results, don't be afraid to share.
St Pancras
If you've ever walked past the St Pancras Renaissance hotel and been overwhelmed by it's grandeur, you can probably imagine what its spa looks like. We've been there and can confirm it does not disappoint. Neither, for that matter, do its massages. Using rituals from around the world to restore beauty and contentment, the St Pancras Spa offers visitors 'a Victorian journey of the senses', taking you from Euston Road to Africa, India and the Far East by way of some of the world's finest beauty recipes and remedies. Their massage menu offers Ayurverdic, Balinese, hot stone, reflexology and a Traditional Massage of the Orient, each of which can be tailored to best benefit your body and mind. We can't imagine how anyone could possibly pick a favourite so there's only one thing for it: better try them all.
Seven Heavens
If you're plagued by knots, aches, creaks and cracks and (so far) massage hasn't helped, The Seven Heavens Clinic in Finsbury Park is well worth a visit. Combining 'Integrated Medicine' (Western Scientific Theory) with Traditional Chinese Medicine, Seven Heavens aims to provide visitors with a bespoke holistic treatment programme tailored entirely to their needs. As a result, most treatments combine several different techniques to achieve optimal results, so don't be surprised if your deep tissue massage comes with a side of lymphatic drainage.
Mandara Spa
If you're going to indulge then you might as well go all the way with a trip to the luxury Mandara Spa at Park Plaza Westminster Bridge. Combining the modernity of the hotel with Asian luxury, the 700sq metre Mandara Spa offers guests the chance to escape the real world through sensory experiences like facials, body wraps and out of this world massages. Mandara offers a variety of different massages, but for true relaxation they recommend the Balinese. This traditional therapy dates back centuries and uses a combination of stretching, long strokes, skin rolling and palm and thumb pressure techniques to relieve tension, improve blood flow, ease stress and calm the mind. We'll take two.