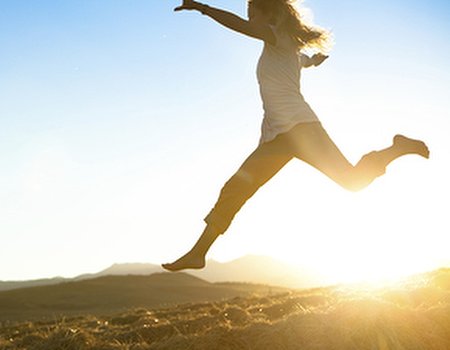 There's nothing like a glorious March morning to make you want to pull back the covers, leap out of bed and shout 'good morning world'. If your morning wasn't quite as full of the joys of spring, it might have something to do with this wintry weather. Fortunately, here at Wahanda, we've found a substitute for sunshine, something that feels so good it'll leave you glowing. Put you clothes back on, we're talking about detoxing.
We know holding your nose and downing a shot of wheatgrass will never feel as good as those first rays of spring sunshine, but making a few healthy changes can boost your mood, energy levels and appearance. If you want some of what we're having, it's time for a spot of internal spring-cleaning to flush away those toxins. To help get you started we've come up with three levels of detoxification for you to choose from, depending on how driven and daring you are. Let's start with something easy...
Level one: the quick tidy up
If detoxing is new territory for you, then it's probably a good idea not to start with something too ambitious. Having a quick 'tidy up' of your daily routine is the first step to feeling better without having to disrupt your lifestyle too much. You're probably already aware of what you should be eating more or less of (clue, if it tastes too good to be good for you, it probably is). For the next few weeks try cutting out processed and packaged food and cutting down on toxins like alcohol and caffeine. Instead, up your intake of fresh fruit, fish, vegetables and lean meat and wash it all down with two litres of water a day and the odd cup of green tea. Speed the detoxification process along with antioxidant supplements like acai and turmeric (available from most health food shops) and feel like a new woman before you can say "spring chicken".
Level two: the springtime spruce
If you're already getting your five a day, haven't ordered a take away since 1995 and think caffeine is the juice of the devil, you might prefer to start your detox at stage two. For our springtime spruce we've called in the help of organic experts Amazing Grass. Their Amazing Meal range blends organic protein, fruits and vegetables into simple, nutritious smoothies that make getting your five a day (and then some) easier than ever. Designed to be consumed alongside an already balanced diet, each shake contains the same amount of protein as three egg whites and the antioxidant equivalent of five servings of fruit and veg. The shakes come in four different flavours from the earthy Original (think broccoli, alfalfa and beetroot - it's an acquired taste) to the not-as-indulgent-as-it-sounds, chocolate. To mix up a batch simply add a spoonful into a glass of water, milk or fruit juice then, without being put off by the colour (it's not as bad as it looks, promise) drink up and let it work its magic.
Level three: deep cleaning
Time to step this spring cleanse malarkey up a gear. Any serious detoxers out there will know what's coming next. The bottom line in detoxing and best way to flush out those toxins: the colonic. For those of you who haven't been brave enough to try it yet, colonic hydrotherapy, or colonic irrigation, uses purified water, coffee or even herbs to cleanse your colon. During the treatment, a therapist will insert a tube into your…you know where, and gently pump fluid in, flushing out any undigested food that might be lurking in your stomach. It might not be as inviting as a hot stone massage or rejuvenating facial, but fans of colonic hydrotherapy (and there are a few) love the way the treatment relieves uncomfortable symptoms like bloating, constipation, flatulence and IBS. Just one treatment can leave you feeling lighter (literally), more energised and better able to concentrate. Next time you're feeling a little bummed out, you know what to do...