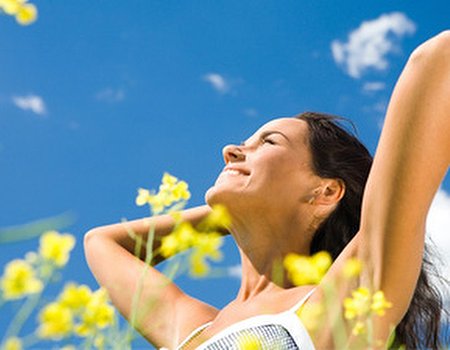 We believe it was a wise young boy scout who first suggested it was a good idea to 'always be prepared'. Faced with the coldest March in decades, here at Wahanda we began to think winter would never end. Knowing that spring was set to arrive on March 20th, and how very changeable the weather can be here in Blighty, we took heed of these wise words and put together a plan that would have us ready and ravishing for spring - whenever it arrives.
Today we reach the end of our warm up and though we're still waiting for those first signs of spring, we're loving our new look. If you haven't kept up with our plan don't worry, there's still time - seriously, look at the weather. For anyone who missed out the first time, we're giving you a second chance to get ready (aren't we nice) with the five top to toe treatments that have proved most popular with you lot. Say goodbye to split ends and dull skin, it's time for the Wahanda spring edit…
Hair
Nothing says 'new you' like a new 'do, so if you're in the market for a seasonal update, start with your hair. Lightening your hair colour is one of the best ways to welcome the warmer months, but particularly spring/summer 2013 when ombre ends and warm shades of brown, gold and caramel are set to be big news. You guys have been flocking to Body Essential in Liverpool Street for your hair needs and raving about their customer service and expertise. You'll be happy to know then that they're currently offering 50% off Half Head Highlights or Full Colour with Cut and Finish. Happy Easter indeed.
Face
What could be a more appropriate way to prepare yourself for the new season than a spot of spring cleansing? Don't worry we're not talking colonics (this time) we mean deep cleaning facials that will scrub away dull winter skin and reveal the spring chicken within. So far this spring your favourite seems to be the Dermalogica Deep Cleanse Facial at Rock Chic Covent Garden and we must say, you have excellent taste. This deep cleansing facial works to leave any skintype gorgeous, glowing and very, very clean.Best of all Rock Chic are offering Wahanda customers 49% off a one hour Dermologica Deep Cleanse Facial, but they're going fast…
Body
We've been raving about Thai London Therapy since they opened last year and we're happy to say that not only have you been listening to us, but you also agree. Located in Baker Street, Thai London offers some of the best massages in the capital. With a team of highly and specifically trained Thai therapists, these massages are authentic, relaxing and can be tailored to benefit your individual needs. The team at Thai London is dedicated to giving customers a treatment that they will continue to benefit from for days. In fact, they're so dedicated to their customers that for a limited period they're willing to offer them up to 35% off a Tailor-made Massage. Book yours before we fill up their calendar.
Skin
We assume that those of you who took note of our tan commandments will, by now, be a streak-free shade of glorious gold or planning a visit to a professional. If you're not booked in yet take a leaf out of a fellow Wahanderer's book and pay a visit to The Retreat at Czaro. Situated a stone's throw away from heaving Oxford Circus, the Retreat is a little haven of calm away from the crowds - it's in the name really. At The Retreat they pride themselves on offerring the latest beauty treatments and great customer service. No surprise then that it's it's your number one choice for a spray tan. Book in now for 50% off a 30 minute spray tan - or get two for the price of one for that 'Darling-I've-spent-the-winter-in-St-Tropez' look.
Toes
It might not be flip flop weather just yet, but after months of hiding our feet away in socks and boots the poor darlings are beginning to feel a bit neglected. Wahanda recently tried out and electric file pedicure at Cucumba and were very impressed with the results and, once again, it seems many of you are in agreement. The pedicure involves sanding away dead skin with a mini electric file (not as scary as it sounds – unless you have a tickling phobia) before shaping and painting the toenails and relaxing with a foot and leg massage. Toe-tally awesome.
Ps. The lovely folks at Cucumba are offering it at 51% off for a limited time, hurry.