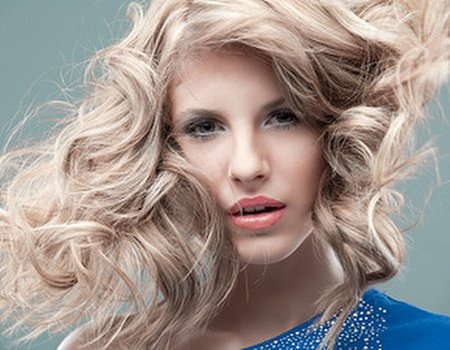 If you thought the end of winter meant the end of weather-related hair woes, we're sorry to break it to you, but you're wrong. Spring weather (assuming we get any) is lovely, but extremely varied. A little sunshine here, an April shower there and more than the odd gust of bracing wind. Sounds invigorating right? Well not for our hair.
Come wind, rain or shine one thing that's definitely forecast for this season is frizz. We know the weather in Blighty has a mind of it's own, but with all manner of hair-raising conditions on the horizon, if your locks are prone to frizz it makes sense to get prepared. Can't fit a brolly in your new spring handbag? Take a look at some of the other precautions you can take…
April showers
They might bring May flowers, but rain showers at any time of year mean extreme-weather warnings for for our hair. Rain means there is more moisture in the air which creates higher humidity levels. Individual hair reacts differently to humidity. You might find that yours goes limp at the slightest sign of moisture rendering your bouncy blow-dry (very spring 2013) a little pointless. Or perhaps, like many of us here at HQ, you your hair has a tendency to expand and bend as it tries to absorb this extra moisture - not a good look.
So what's a girl to do when it starts to drizzle? There are a few options. Firstly, you might want to embrace this season's hair accessories trend, find a D&G-esque bandana and fix it to your head for the foreseeable future. Alternatively, you could try spritzing hair with a moisture barrier spray like Frizz Ease Moisture Barrier Firm Hold Hairspray before leaving the house. It's also a sensible idea to track down your nearest blowdry bar so you can pop in for an emergency de-frizz during extreme conditions.
Wind
"Rough winds do shake the darling buds of May". They also shake, snag and tangle our tresses - although we imagine this wasn't quite such a concern in Shakespeare's day. By bashing loose hairs against each other, strong winds can roughen up the cuticle layer causing hairs to catch. This causes tangles, creates splits and generates annoying flyaways. Prolonged exposure to rough winds can cause individual hairs to become permanently rougher, meaning they tangle more easily and look - you guessed it - 'frizzy'.
Birds nests not your thing? Besides staying indoors, the simplest way to avoid wind damage is to tie hair up on particularly blustery days. If this isn't an option for your hair, try using a deep conditioning treatment like Moroccanoil Restorative Hair Mask once or twice a week. This will help combat the immediate effects, but can't undo long-term damage. So in truly treacherous conditions it might be worth investing in a Keratin Blow-dry. The treatment works by coating hair in keratin, smoothing the cuticle layer and sealing it with a blowdry and hot tongs. Hair is left looking and feeling silky smooth for between three and five months which, if our maths is correct, should see you through the rest of the season. Told you it was an investment.
Sunny spells
Not to sound ungrateful or anything – we love a spot of sunshine as much as the next vitamin D-deprived Brit – but warm, dry weather isn't quite such good news for our hair. We've already discussed how extra moisture in the atmosphere can cause hair to frizz, but, as luck would have it, too little moisture has a similar effect. Typical. When our hair is exposed to high temperatures, whether from the sun or heated appliances, the cuticles open allowing natural moisture to escape. Dry hair is particularly prone to split ends and breakages, both of which result in flyaways and frizz.
The easiest way to combat this is to limit our hair's exposure to heat. That means putting down your beloved hairdryer and heated tongs. Fortunately, laidback waves are set to be one of the season's hottest trends and warmer weather gives us the perfect excuse to try them out. Try massaging a smoothing serum like Lee Stafford Argan Oil through towel dried hair then leave that spring-time sunshine to work it's magic. If you'd lay down your life before putting down your tongs we're not going to force you – especially since poker-straight hair made a return to multiple spring 2013 runways. Just remember the golden rules of heat-related-frizz control (yes, that's a thing): make sure to go for regular trims and, above all ladies, ''always'' use protection. Protection spray that is. We love V05 Heat Protect Styling Spray: great job, great price.