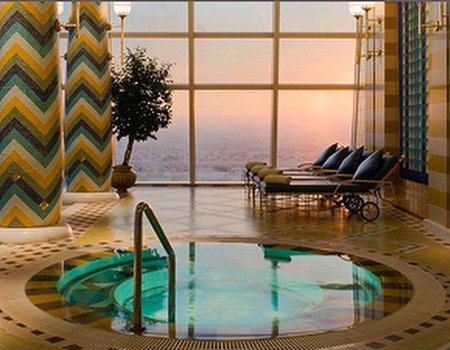 Attention all spa-goers. Thought your run-of-the-mill five star service, baths of lemon milk (ask Simon Cowell) and complimentary glass of the finest French bubbly were as good as it gets? Well you might be interested to hear that the World Luxury Spa Awards has once again scoured the globe for the crème de la crème of relaxing resorts and reported back with their findings. The 2013 results are in and we can reveal, ladies and gentlemen, that it does in fact get better…
Aiming to encourage and raise service standards, the World Luxury Spa Awards is a global organisation providing luxury hotels with recognition for their world class facilities and excellent service. In their quest to find the world's best spas the organisation asks luxury hotels across the world to campaign for themselves before guests cast their votes.
Spas and hotels are nominated then whittled down to finalists then country winners, continent winners and, finally, global winners with thirteen world titles up for grabs this year. Let's hear it for the winners:
Best Luxury Hotel Spa: Assawan Spa and Health Club, United Arab Emirates (pictured)
Best Luxury Mineral Spring Spa: The Grand Spa at Tabacon, Costa Rica
Best Luxury Safari Spa: Royal Zambezi Lodge Bush Spa, Zambia
Best Luxury Emerging Spa: ESPA at Resorts World Sentosa, Singapore
Best Luxury Fitness Spa: Evania Ladies' Spa and Seba Gentlemen's Sports and Wellness Centre, Saudi Arabia
Best Luxury Destination Spa: Banyan Tree Spa Marina Bay Sands, Singapore
Best Luxury Wellness Spa: One&Only Spa by ESPA Reethi Rah, Maldives
Best Luxury Resort Spa: Talise Ottoman Spa, United Arab Emirates
Best Luxury Spa Group: Banyan Tree Spa, Thailand
Best Luxury Day Spa: The Spa at the Address Dubai Mall, United Arab Emirates
Best Luxury Beauty Spa: Quu Spa at Gural Premier Tekirova, Turkey
Best Luxury Boutique Spa: The Spa Artisan, Singapore
Best Luxury Medical Spa: Malo Clinic Spa, Macau China
Who knew there were so many varieties of luxury?
We were delighted to find that some of Wahanda's favourite spas had been voted the best in country and continent so if you fancy sampling the high-life but don't have the air-fare for the top thirteen you can always try a runner up closer to home. The Carrick Spa at Cameron House and Mandara Spa at Park Plaza Westminster Bridge, for example, were voted Best Luxury Resort and Best Luxury Beauty Spa in the continent respectively.
For the best of British look no further than the stunning Spa by ESPA at Gleneagles in Scotland, which was voted Best Luxury Resort Spa in the UK, or The Spa in Dolphin Square which got Best Luxury Day Spa. We'd also like to give a special congratulations to Chuan Spa at The Langham in London which not only scooped Best Luxury Hotel Spa in the UK but has just been granted a Forbes Star Award acknowledging the spa as one of the finest experiences in global hospitality.
If all this talk of luxury has you feeling inspired (or envious) take a look at some of our favourite spa's in the UK, then book in, relax and judge for yourself. We'll see you by the pool.
Image Assawan Spa and Health Club, United Arab Emirates from www.luxuryhotelawards.com