Image:PDN/SIPA/REX
It's week two of the post-Christmas detox, and though you might have traded that gingerbread latter for a ginger-infused tea, chances are you're still carrying a little leftover 'holiday weight'. Don't worry, you're not alone. This time of year, men, women and even Gwyneth 'I don't know what a mince pie is' Paltrow are all feeling the effects of festive excess.
Great news folks: the A-list actress turned nutrition-guru has published on her blog a simple way to shed the Christmas leftovers. A winter detox made up of a collection of recipes from Dr. Alejandro Junger and the 'goop kitchen' that are "warming and filling and don't feel like a sacrifice". We were sceptical too.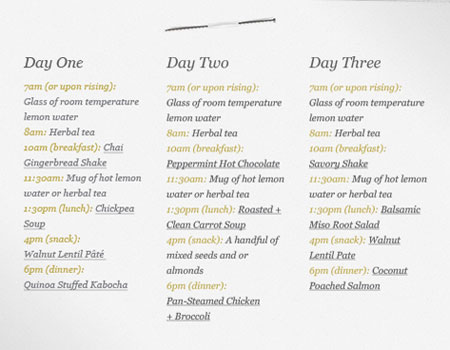 Despite describing the detox as having 'looser guidelines and restrictions than ones we've done in the past', this January Gwynnie will be mostly avoiding: dairy, gluten, shellfish, anything processed (including all soy products), nightshades (like potatoes, tomatoes, peppers and eggplant), condiments, sugar, alcohol, caffeine and soda. We know what you're thinking - January 2013 must have been a b****.
Whether you've been looking for detox guidance or not, there's a good chance you've already come across Paltrow's pulse-heavy plan for paunch elimination. Hours after its publication on Gwyneth's blog, the detox was subject to criticism from nutritionists, journalists and outraged social media voices taking issue with this '300 calorie' a day diet.
Taking a look at the blog ourselves we were similarly put off by seemingly overly-restrictive menus comprised of meals like chickpea 'soup' (key ingredients: a handful of chickpeas and water), and a 'Stuffed kabocha' recipe which requires sharing half a kabocha squash between four.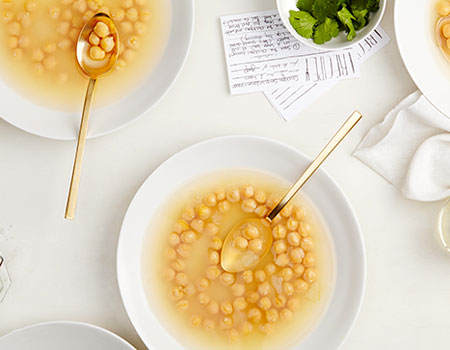 With words like 'dangerous' and 'irresponsible' floating around in response, we thought we'd ask some of the nutritionists we work with what they thought of the controversial diet. Here's what they had to say:
Geeta Sidhu-Robb, CEO Nosh Detox
"This actually looks like quite a high calorie, nutrient dense and rich programme. There are certainly more than 300 calories in the daily plan - and possibly in the almond butter alone - so you'd need small portions to make it work for you. The recipes use a lot of coconut milk, almond butter, almond milk and coconut cream, which are all good fats that your body will enjoy and use well... especially if – like Gwyneth - you work out for 1.5 hours a day."
"The meals seem well balanced, with a good combination of legumes and nuts across the menus. They do look a little fiddly to prepare, but if you had everything required at home, it would probably work quite swiftly."
"Personally, I would potentially replace some of the almond milk with oat milk or other non-milk substitute as some people find coconut milk quite difficult to digest."
Daniel O'Shaughnessy, Nutritional Therapist at The Naked Nutritionist and Bodhimaya Retreats
"The main thing in a really restrictive detox is that you may not be giving the liver what it needs to detoxify effectively. Generally most detoxes remove all protein and for a detox to be effective then there is a need for adequate levels of amino acids (the building blocks of protein) and nutrients to support liver pathways."
"You can detox on 300kcal a day but I wouldn't do this for long. Perhaps 4-5 days max. A detox should also include gut healing broths and adequate fat to improve absorption of nutrients. You also need to work yourself up slowly to food starting with something easy to digest such as a smoothie with added natural protein powder."
There you have it. Love her or loathe her it seems that done right, and over a short period of time, Gwyneth's detox isn't quite the punishing regime we originally thought. If you're still unsure about it then fair enough, but you might still benefit from some of the tips to keep warm that accompany the meal plan, for instance: "Wear warm clothing both outside and inside your home" and "If possible take saunas – infrared saunas are especially good". Thanks Gwyneth, where would we be without you?