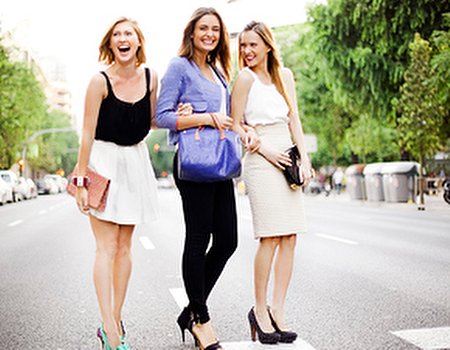 Nothing beats a brisk stroll to awaken the senses, clear the mind and burn a few calories. No we're not just looking for excuses to get out of the office, this week is Walk to Work Week. Part of National Walking Month, Walk to Work Week is organised by charity Living Streets as part of their work to create safe, attractive and enjoyable streets, where people want to walk.
After a recent survey found that commuters who walk the majority of their journey to work are the happiest (with 88% of walkers saying their journey to work actually makes them happy) walking is shaping up to be the best way to put a spring in your step – pardon the pun.
Despite the name, Walk to Work Week isn't just about walking to work but about fitting a few extra paces into your day wherever you can. Individuals and workplaces up and down the country are participating in Living Streets' 'walking feats', finding creative ways of building walking into the working day raising money and logging their collective miles on www.walktoworkweek.org.uk.
Tony Armstrong, Chief Executive of Living Streets said: "Here at Living Streets, we help employers improve the health and productivity of their workforce by helping them create travel plans and encourage their staff to get more active. Walking can help to reduce stress, aid motivation and improve the general health and wellbeing of employees. Walk to Work Week is a brilliant opportunity to participate in the 'walking feats' on our website and to give walking a go this May."
For those of you who aren't sure about giving it a go here are some inspiring facts to get you on your feet:
1. The average person walks between 3,000 and 4,000 steps a day.
2. By walking 10,000 steps a day we will typically use up between 300 and 400 calories, depending on pace, weight and incline.
3. Walking an extra twenty or so minutes every day will burn off around half a stone (7 pounds) of body fat per year. 
4. Ancient Greek physician Hippocrates once said 'Walking is man's best medicine', these days regular walking is thought to benefit our health in many ways including improved memory, lower risk of stroke, lower risk of heart disease, preventing osteoporosis and even improving the, ahem, love life.
5. To have a positive effect on our health we only need walk at a moderate-intensity that will raise the heart rate and cause us to break a slight sweat. According to the NHS one way to tell is "you'll be able to talk, but not sing the words to your favourite song."
6. A brisk walk is one of the best ways to tone up the legs, bum and tum. Regular walking (at a good pace) helps strengthen legs, defining the calves, quads, hamstrings and lifting the glutes. Keeping your head held high and walking with a straight posture will also engage the stomach helping to tone your abs. Hello six pack.
7. Living Streets has been around for 80 years, their early campaigning led to the introduction of the driving test, pedestrian crossings and 30mph speed limits. Great work guys.
8. Like all exercise a bit of walking leads to the release of endorphins leading to an improvement in mood. A 1999 study published in the Annals of Behavioral Medicine showed that university students who walked had lower stress levels than those who took no exercise at all or those who exercised strenuously.
9. In your lifetime you will walk about 65,000 miles which is the equivalent of three times around the earth - unless you're Jean Beliveau…
10. In the year 2000 Jean Beliveau from Canada set off on a walk around the world to promote "Peace and non-violence for the profit of the children of the world". It took him 11 years to walk the 46,600-miles passing through 64 countries. Talk about going the extra mile....
For more information on Walk to Work Week see www.walktoworkweek.org.uk.