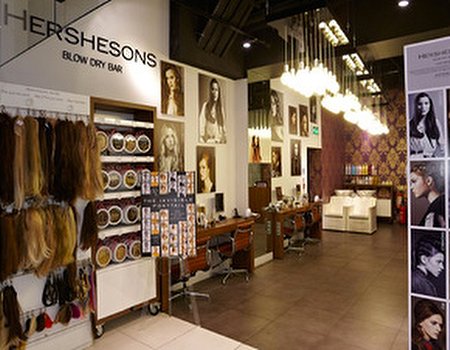 We might be in a recession, but right now the beauty business is booming, which explains why over the last year we've seen retailers like Selfridge's, Harvey Nichols and Marks and Spencer expanding their beauty departments to create one-stop-shops for all our cosmetic needs. Last week, Topshop put their own unique spin on the trend when they opened their brand new Beauty Department at their flagship store in Oxford Circus.
Topshop's new 'treatment destination' is quite unlike other expansions we've seen this year. Catering for 'all your treatment needs ahead of a great night out', the department offers a range of services from eyebrow threading, waxing and blow-drying, to dip-dyeing, 'recession roots' and piercings.
Anna Svard, Topshop Buying Manager, said of the expansion:
'The Topshop customer embraces all aspects of fashion, and the new Topshop Beauty area within the Oxford Circus store reaffirms the store as the ultimate fashion and beauty destination, where customers can shop, eat and experience the best in beauty treatments.'
To fulfill their promise of only the very best, Topshop have called in the help of some of the most innovative and respected names in the business, carefully selected to meet the specific needs of the Topshop customer.
Begin your Topshop beauty experience with a stop off at Bleach, the Dalston-born salon who claim to have created some of 2012's biggest hair trends including 'Recession Roots' and the silver platinum dye. Next head to eyebrow experts Blink, who were among the first UK walk-in brow bars when they opened in 2004 and claim to be responsible for bringing threading into the 21st century. Go get your nails 'did' at WAH, the nail-art specialists who began life as a hip-hop fanzine (a real Wahanda favourite), and then complete your transformation with a little body art from Metalmorphosis, the UK's leading piercing and tattoo studios responsible for more than a few A-list piercings. All this under one roof? We're sold…
If that's a little out of your beauty comfort zone, fear not. Topshop's Beauty Department – like its clothing collections – strikes the perfect balance of daring and everyday, meaning there really is something for everyone, even if it is just a trim or file and polish.
The new Beauty Department is located on the lower ground floor, and as always with Topshop launches do expect crowds – in fact most of Wahanda HQ are down there now. Back of the queue, Wahandarers!