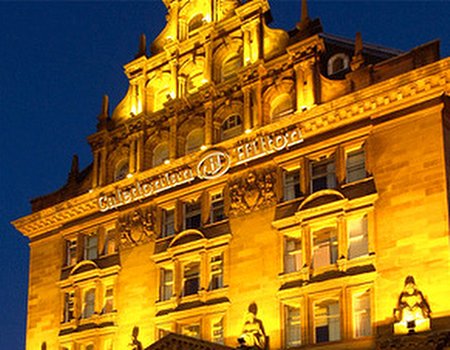 Picture the scene, you're lying back in a reclining chair, cooling eye-pack in place, gentle rainforest noises softly soothing away any worries, while a pair of expert hands work exotic oils into unwanted knots. What could be more indulgent?
That's right, nothing. Except, maybe, if the spa you're in belonged to one of the most luxurious and celebrated French perfume houses of all time… say, for example, Guerlain.
As part of a lavish redevelopment, The Caledonian Hotel in Edinburgh (part of the Waldorf Astoria family) will open the UK's first Guerlain Spa this winter offering some of the world's most luxurious beauty treatments to both hotel guests and non-guests, and generally going beyond the realms of luxury as we know it.
In a statement about the upcoming spa, a spokesperson for the brand revealed: "The treatment menu at the Guerlain spa will reflect luxury, emotion and refinement". On the menu, spa-goers will find the crème de la crème of beauty treatments including body sublimination, makeup artistry sessions and 'harmonising experiences' such as reflexology, Chinese massage and aesthetic drainage.
Even the massage sounds unlike any we've had before – and we've had a few. Harking back to the signature massage from 1939 (the year Guerlain opened its first 'Institut de Beaute' in Paris) the unique 'Edinburgh Caledonian Chic' massage promises not only relaxation but a radiant, smoother and more youthful appearance achieved through a combination of pressure points, muscular exercise techniques and, of course, some magical Guerlain products.
If looking at the menu makes you feel a bit like you've stumbled into an exclusive restaurant wearing your trainers – and you're not alone – rest assured the Guerlain spa has something for everyone. No, really: most of the facial and body treatments on offer cater specifically to your individual needs.
According to Louise Moore, Director of Spa Operations and Development, Hilton Worldwide: "Each treatment is transformed into a unique and personal occasion by highly skilled beauty therapists who will provide guests with a bespoke and boutique experience that will really reflect the spa's essence."
Alongside these divine treatments, guests will find a few more earthly facilities including a swimming pool, steam-room, sauna and 24-hour health and fitness suite. The spa will also feature something called a relaxation space. We're not entirely sure what this is but we're pretty sure we want one at Wahanda HQ…
The entire hotel is currently undergoing restoration work and due to re-open after a grand unveiling this September, with the spa itself opening later this winter. With treatments ranging from £40 with day experiences available for £275, we know what we're putting at the top of our Christmas lists.