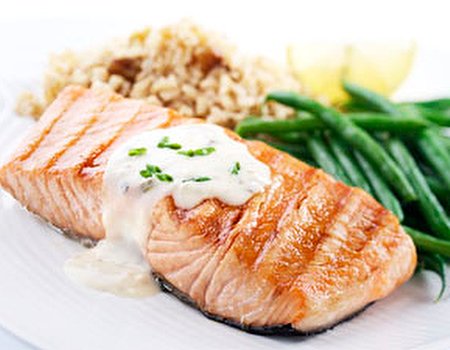 The quest for a longer life has fascinated mankind since we first heard the term 'holy grail'. Over the years we've created a few treatments and 'elixirs' (aka face cream) that can help out with 'eternal youth', but while we may have succeeded in keeping wrinkles at bay, we're yet to discover an easy way to prolong life. Well thanks to a recent study published in the journal Annals of Internal Medicine we might finally be onto something. Fish.
It might sound like a load of pollock, but the study, conducted by Researchers from Harvard School of Public Health and the University of Washington found that adults aged 65 and older with high blood levels of the fatty acids found in our finned friends lived, on average, 2.2 years longer than those with the lowest levels.
The researchers analysed 16 years of data from around 2,700 US adults aged 65, looking specifically at three kinds of fatty acids found in their blood samples: docosahexaenoic acid (DHA), eicosapentaenoic acid (EPA) and docosapentaenoic acid (DPA) – try saying that three times. Taking into account factors including demographic and lifestyle, they found all three fatty acids were associated with a significantly lower risk of dying from conditions including coronary heart disease, heart arrhythmias, strokes and heart attacks. Overall, the participants with the highest levels of all three types of fatty acids had a 27 per cent lower risk of death from all causes.
This isn't the first we've heard about the wonders of 'Oily fish'. It has become a term we throw around a lot in the world of health and beauty, with nutritionists reminding us how critical it is to include in our diets. However, many of us are still unsure which fishes are considered 'oily' and why they're so important.
Oily fish refers to tuna, salmon, mackerel, sardines, herring and anchovies which are not only an excellent source of protein, but also rich in nutrients, like vitamins A and D, which are important for healthy bones and skin, and fighting off infections. But the main reason we are all being advised to eat more of it is, you guessed it, omega-3 fats.
Oily fish contains a specific type of long-chain omega-3 fats (different to the stuff found in nuts and seeds) which the human body cannot produce itself. These fats have been shown to have several health benefits, including helping to prevent the blood from clotting, regulating heart rhythm and helping to lower levels of blood fats called triglycerides.
Despite being advised to eat fish at least twice a week (including one portion of oily fish), according to the British Heart Foundation most of us only manage a measly third of a portion per week. If this sounds like you, and you're not willing to up your intake – we're not all fish-lovers after all – then supplements are a great way to go. Krill Oil, for example, is high in DHA (the fatty acid found by this study to slash the risk of coronary heart disease by 40 per cent) and is available in capsule form to up your omegas without the fishy taste.
Ok we'll stop carping on about oily fish now. Mullet over at least though, eh?