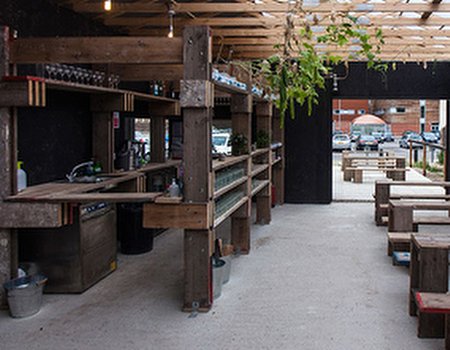 Ever find yourself torn between post-work cocktail and heading home for a relaxing bath? Well thanks to a new bar in East London, you can do both – sort of.
The Barking Bathhouse, which opened this summer, offers customers affordable spa treatments as well as a free social space for people to meet and enjoy some of the best cocktails in East London, all under a ceiling canopy of growing cucumbers.
Part of the Mayor's Outer London Fund projects for Barking and Dagenham Council, the spa offers visitors the chance to indulge in spa treatments, including massages, body treatments, manicures and pedicures, and even sunbathe in seaside-inspired pebble bays - in sunnier months - while enjoying fresh cocktails and smoothies from the bar.
Inspired by the 20th century working men's bathhouses, modern spas and Barking's industrial heritage, the Barking Bathhouse features some traditional bathhouse rituals such as a wooden sauna, a cold room lined with ice blocks and relaxation area with loungers.
The Bathhouse is all about reducing waste and uses natural produce grown by local allotment gardeners – including, of course, cucumbers from their canopy. To reduce excessive water use the Bathhouse doesn't have the pools and hot tubs you might find in more traditional spas, but rather offers customers shingle dunes to relax in between treatments.
Relaxation is certainly high on the Bathhouse's agenda. Andrew Merritt of Something & Son who built the spa said: "Ideally relaxation should be an everyday experience and we wanted to design a space that can increase happiness and explore ideas of relaxation in an urban context. The juxtaposition of traditional spa techniques and the industrial setting will create a raw but very human space."
And if massages and cocktails aren't enough to "increase happiness", the Bathhouse also runs an events programme with workshops, talks and discussions all based around happiness and wellbeing.
The Barking Bathhouse is open now, see www.barkingbathhouse.com