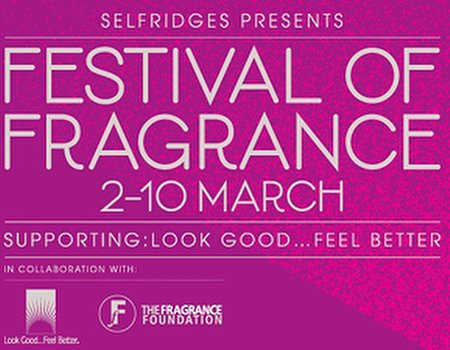 When you think of your average festival, words like 'fresh', 'floral' and 'fragrant' probably don't spring to mind. The festivals most of us will probably have attended were muddy, smelly and had toilets that will haunt us for years. Well all that's about to change thanks to Selfridge's and cancer support charity Look Good…Feel Better.
In association with the Fragrance Foundation, Selfridge's and Look Good…Feel Better (LGFB) are teaming upto host the first 'Festival of Fragrance' in March. For one week, Selfridge's London will play host to a series of events to raise funds and awareness for the charity and continue their longstanding relationship.
Festival of Fragrance will take place from 2nd to 10th March, with a focus on Mother's Day and celebrating the special cross-generational relationship between mothers, daughters and grandmothers and the memories that fragrances evoke.
The festival will give visitors a chance to discover all that makes a fragrance so personal and offer mothers, daughters and grandmothers a number of events to enjoy together through a love of scent.
One such event taking place on Monday 4th of March will include an exclusive Dinner followed by an out-of-hours shopping experience (a Selfridge's first) as well as expert talks and tips on how to choose a fragrance from the like of Jo Fairley and Odette Toilette. Tickets cost £50 per person.
As well as fund raising events, each brand involved in the festival will make a donation of £1 per fragrance product sold during the week. The money raised will help LGFB to further develop its programme helping women combat the visible side effects of cancer and cancer treatment through free workshops at over 65 hospitals and cancer centres in the UK. Brands involved in the Festival include: niche fragrances such as Bella Bellissima, Creed and Robert Piguet as well as much-loved brands like Chanel, Mugler, Guerlain and Dior.
See style.selfridges.com for more details and for more fragrant Mother's Day ideas have a look at our expert blog from Sali Hughes.