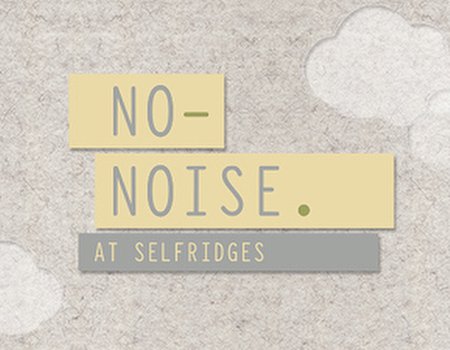 If you've been to Selfridges for a spot of sale shopping in the last few days 'tranquility' and 'relaxation' probably aren't words that you would associate with the visit. But from today (7th January) all that is about to change as Selfridges introduces a new store-wide concept 'No Noise'.
This unique project invites weary shoppers to 'celebrate the power of quiet, see the beauty in function and find calm among the crowds' with a trip to the super-store's Silence Room.
The Silence Room was first thought of in 1909 by Harry Gordon Selfridge and aimed to help visitors find balance in the fast-paced world – it might have needed a little revamp to be ready for 2013 shoppers.
No Noise will provide an escape from the bombardment of information and stimulation we face on a daily basis and even includes a Quiet Shop selling an exclusive collection of de-branded products, including some of the world's most recognisable brands without their logos.
The initiative also showcases specially commissioned art installations and stage performances to nurture the imagination, including a performance of John Cage's landmark composition 4'33.
No Noise will run from now until the end of February and sounds like just what we need to recover from all the shopping, cooking and general merriment of the festive season.
See style.selfridges.com for more information.