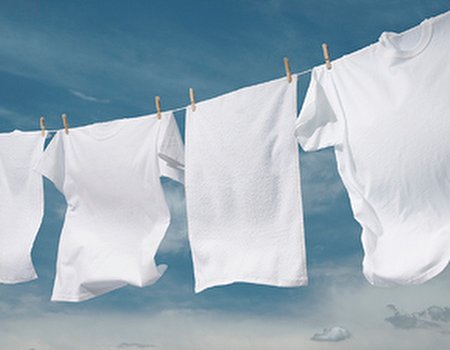 Some days, there's nothing better than the feeling of soft, warm washing fresh from the machine. There's something so comforting about the way it feels against your skin and the fresh familiar scent that can have an uplifting effect on our mood - for a few moments at least. If only there was a way to prolong this feeling and carry it around all day. Well according to a few clever scientists at Intelligent Fabric technologies (IFT), there is.
IFT, a biotechnology firm, best known for high-performance sportswear such as Adidas' Climateam ranges, has teamed up with Tesco PLC to launch a fabric softener that works to soften skin.
'PROTECT Softer For Longer' is the first fabric conditioner to use multi-action technology to combine natural skin moisturisers and the science of polymers – long compounds of molecules found in plastics – to soften clothes and soothe dry, sensitive or irritated skin. The formula, can be washed into fabrics using an ordinary washing machine allowing us all to wave 'good-bio' to sore skin.
The PROTECT range includes another revolutionary conditioner called 'PROTECT Newer For Longer' - which uses dirt repelling technology to make clothes more resistant to staining while keeping them soft. A third formula is also being trialled, that works to kill the odour causing bacteria in washing that can cause machines to smell and is difficult to destroy using today's low temperature cycles.
Intelligent Fabric Technologies founder, George Costa, said of the new range: "Years of research have gone into these fabric enhancers and I have to say that we very proud of the end result. With Softer for Longer, knowing that millions of people have either sensitive or dry skin we were looking for an active ingredient that would do the job of a normal fabric conditioner and a skin moisturiser. Softer for Longer is the first product that can actually moisturise the skin as well as making the fabric itself soft.
Whilst researching this, we came across another active ingredient that stopped pollen hooking on to fibres and whilst testing discovered that the same polymer stops dirt and grime by smoothing the fibres. Unlike Teflon or Scotchguard, this technology leaves fabrics feeling really soft."
Tesco's Category Buying Manager for Laundry, Jane Potter, said: "It's our job to uncover new and revolutionary technologies which enhance our existing products. So, when customer feedback showed that common bugbears associated with laundry care included the inability to remove stains off clothes and skin irritations it was a no-brainer for us to look at addressing these issues and offer customers an alternative product.
Potter added: "These liquids are one of those science breakthroughs that make a difference to our everyday lives. It may not be as glamorous as other technologies but neither was the invention of washing-up liquid 50 years ago, and that transformed domestic chores for millions of families."
Both products are available now in Tesco branches throughout the UK.