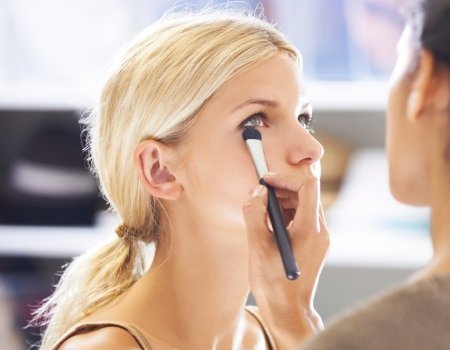 If you're stuck for ideas for what to put on your Christmas list this year, how about restocking your essential makeup kit? Everyday makeup might not sound like the most exciting request, but we gave up asking for a pony years ago and after a recent survey revealed exactly how much we're spending on 'basics', stocking up could save you a small fortune.
The survey, conducted by vouchercloud, asked UK women about the contents of their makeup bag, revealing the average cost to amount to nearly £100 – and that doesn't even include nail polish. Equally surprising, the findings also revealed that the typical UK woman's 'everyday' look is achieved through a kit made up of no less than14 different items.
The 2,104 women surveyed ranked their beauty tool kit in order of importance and, when it comes to value, it seems the eyes really do have it, with mascara and eyeliner being named the two most valuable items in our makeup bags. Trusty concealer (our personal favourite) came in at third place, with blusher fourth and lip gloss/balm fifth.
The survey also asked women to name the brands in their makeup bags revealing Rimmel to be the most used beauty brand in the UK, followed by Maybelline, then Clinique, Bobby Brown and L'Oréal.
Comprised of a mixture of high end and high street products, the contents of the average makeup bag were found to cost a total of approximately £93.32. Which wouldn't be too surprising, except that 52 percent of the women questioned admitted they replenish their kit, on average, every three weeks.
More shocking however were the responses to the survey's questions about how we feel without our everyday kit. Almost a third of women admitted they would 'never' go out without taking their makeup with them, while just 19 per cent said they 'frequently' do so.
Vouchercloud's Matthew Wood said of the findings: 'It does seem that there's an element of uniformity though according to our poll. Some things are clearly regarded as more essential than others.
'The collective value is also a bit of an eye opener. Although individual items may seem inexpensive, it appears that the total soon adds up once you put them all together.'
Speaking of putting them all together, that's our Christmas listed sorted. We'll take a mascara, eyeliner, concealer, blusher, lip balm, foundation, lipstick, bronzer....