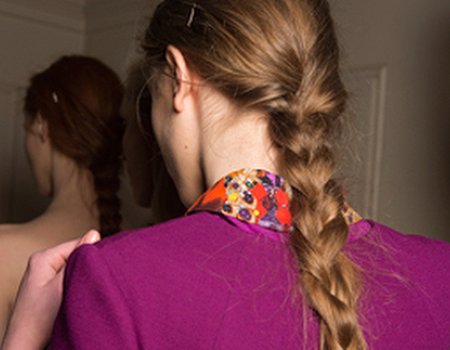 Whether you're a label loving fashionista or have more of an 'I just threw this on. No, really' approach to fashion, it probably won't have escaped your attention that we have just endured the whirlwind that is London Fashion Week. Here at HQ we've been loving some of the looks, although we also found that all the excitement is distracting us from our hard work...
To avoid getting in trouble with the boss, we thought we'd combine the two with a blog post to show you what we've been drooling over. Today, it's the easy to wear English Country Coiffure at Matthew Williamson…
The Look
Matthew Williamson's Autumn Winter 2013 look was inspired by an eccentric English Country Girl exploring the Northern Lights of the Arctic Circle. The result is effortlessly, self-done feminine beauty combined with bright and mystical colours.
Williamson let the clothes do the talking, and give his collection that 'country girl' finish by leaving make up relatively bare and keeping hair simple and loosely teased. We particularly love the traditional, and always easy, braid some of the models wore. Cos Sakkas, International Artistic Director for TONI&GUY Hair Meet Wardrobe (who created the style) said of the look: "It's so powerful that the hair doesn't need to distract, the style should be simple and undone and appear effortlessly casually but beautiful"
How to do it
The key component to creating this look is to remember it mustn't be too neat or glossy. If your hair is naturally sleek and shiny – poor you – try rubbing TONI&GUY Hair Meet Wardrobe Rough Texturiser into the roots to add a little dryness, grip and to give a textured matte finish to the surface of the hair.
Using your fingers, roughly part hair to one side. Section hair into three thick strands and work into a wide plait, as loose as possible down the middle of the back.
Loosen a few strands and fix with a light hold hair spray.
The inside scoop
When Hair Meet Wardrobe asked him about his latest look, Matthew Williamson described the hair in his collection as "a very natural earthy plait with texture in it, not too precise, it's a bit loose and undone."
Williamson also revealed his favourite place in London to go to for respite during Fashion Week, is The Dorchester Spa which some of you might remember was Wahanda's Spa of the week last week.
"A massage at the Dorchester spa is the ultimate luxury, the art deco relaxation room feels very decadent yet calming." Williamson said.
Now there's a man after our own hearts.