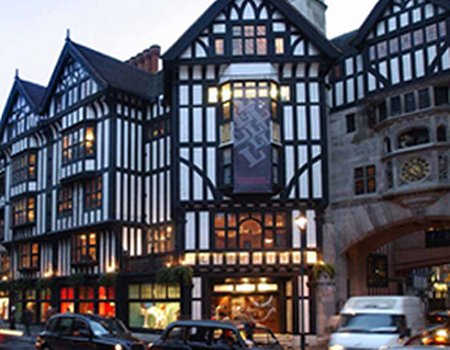 Last month we brought you news of the arrival of the first ever beauty vending machine at Harvey Nichols. The vending machine arrived as part of the store's BeautyMART, a concept boutique stocking an edited selection of favourite beauty products, designed to simplify the way we shop for beauty. Hot on their heels, fellow luxury retailer Liberty have just launched their own concept to simplify beauty buying: the beauty pharmacy.
Liberty London is already the proud owner of a famous beauty hall, but their new pharmacy promises to make shopping for make-up and skincare even more enjoyable.
Inspired by pharmacies in France and New York, Liberty's new addition has whittled the selection of beauty must haves down to a mere 25 products that can be browsed and bought without having to visit a branded beauty counter or consultant.
The selection of must-haves features products that are deemed 'cult products' by the industry and typically difficult to get hold of including: Weleda's Skin Food cream, healing cream Egyptian Magic, Mane n' Tail Shampoo and Conditioner (originally designed for horses), Natural Treasures Emu Oil and about 20 more weird and wonderful products.
Fancy finally getting your hands on the emu oil you've been after for years? Head to Liberty on Regent Street now to check out the pharmacy for yourself.