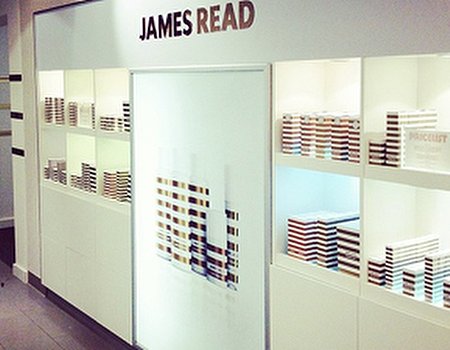 Last week, James Read made tanning history by becoming the first professional tanner to open his very own tanning studio in Harvey Nichols. Being long-time James Read fans, we made our way to Knightsbridge last Thursday to toast the occasion with Champagne, cocktails and a little evening sun.
The Studio itself is located on the fourth floor of the plush department store – an obvious choice for Read as Harvey Nichols was the first store to stock his sunless tanning products. We headed straight there expecting a party... only to find a very stylish, but very empty studio. Realising we were probably in the wrong place, we took the opportunity to have a quick snoop. The Studio is immaculate. Decorated with pristine white walls and stripes of bronze, it has been designed to complement the range's iconic packaging and nod towards the seventies – the bronze-heavy decade in which Read was born.
It was at this point we ran into BeautyMART's Anna-Marie Solowij, who reassured us the lack of party "isn't like James…" Together we headed off to find the festivities, which happened to be located one floor up, on the outdoor terrace. With a big kiss on the cheek from Mr Read and a glass of champers in hand we joined the likes of Stylist, Grazia and beauty blogger Really Ree in celebrating the launch, the range and the man himself.
With over twelve years' experience, and an army of devoted fans including Rosie Huntington-Whiteley, Lady Gaga and Lara Stone, James Read has fast become one of the biggest names in self-tanning. His at home range, the first to bear the name of a professional tanner, has been hugely successful and his studio, another tanning first, is set to be just as popular.
But don't just take our word for it, have a look for yourself. The James Read Studio is now open 10am-8pm Monday – Saturday and 12noon-6pm on Sunday. James will be heading up the expert team and on hand to administer that supermodel glow every Wednesday - Friday and on request.
Image from jamesreadtan instagram