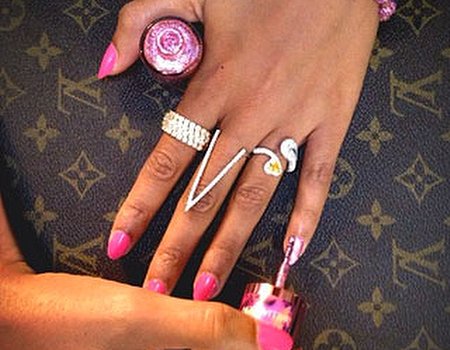 The arrival of October means it's time to eat, wear and just generally think pink for Breast Cancer Awareness Month. Organised by charity Breast Cancer Care (BCC), Breast Cancer Awareness Month is all about campaigning for better support and care while promoting the importance of early detection.
Over the last few years, BCC and other breast cancer charities have organised fundraising events and enlisted the help of celebrities, beauty brands and high street names to help raise awareness for this important cause throughout the month of October. This year is no different. Here's how you can show your support this month…
Fundraising
If you'd like to raise some money this Breast Cancer Awareness Month there are plenty of ways to get involved. On 19th October, Breast Cancer Care will be inviting women (and only women) to take part in either a 5k, 10k or 15k run within the grounds of south west London's beautiful Richmond Park to help support those living with breast cancer. Find more information, and training plans on breastcancercare.org.uk. If running isn't your thing, you can get involved by donning something pink on Friday 25th October and donating £2 to Breast Cancer Campaign as part of their 'Wear it pink' day. Better still, encourage all the girls and boys in your office to do the same by registering for a press pack on www.wearitpink.org
Paint your pinkie pink
Last year Nails Inc's 'Paint your pinkie pink' campaign had women (and Russell Brand) painting their little finger nail pink in support of Breast Cancer Awareness. This year the campaign has teamed up with Matthew Williamson and Poppy Delevingne to launch two limited edition bottles for the glittery pink 'Pinkie Pink' polish. For every sparkly bottle sold, Nails Inc will donate £1 to Breast Cancer Campaign, helping to raise money for vital research. Beyoncé has already tweeted a picture of hers and Nails Inc encourage you to do the same promising that for every pink pinkie tweeted to @nailsinc with hashtag #spotthepinkie they will donate an additional 10p.
Think pink
Beauty lovers – we imagine that's a few of you – take note: Nails Inc aren't the only beauty brand to be showing their support for the cause this month. Elemis will be making a £10,000 donation to Breast Cancer Care and are hoping to meet this target with the launch of their Think Pink Beauty Heroes Collection, which is available for £36.50 from department stores including Debenhams and John Lewis. Our favourite detangling brushes, Tangle Teezer, will also be donating £2 from every Penelope Pink Tangle Teezer sold, while ghd will be donating £10 from every V pink diamond to Breakthrough Breast Cancer. Look our for all manner of everyday items turning pink over the next few weeks and some very pink goings on here at Wahanda Towers towards the end of the month...
Image from beyonce instagram