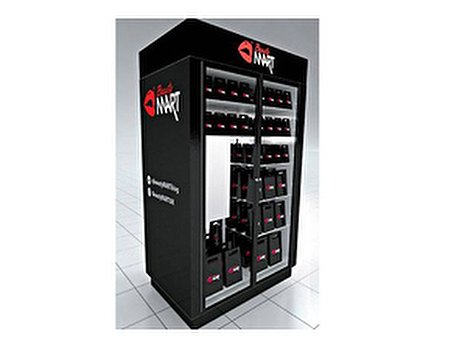 Beauty enthusiasts that we are, here at Wahanda we like to spread the word about the latest, greatest and strangest beauty inventions we come across. Last week we brought you calorie-free chocolate and this week we've got something even better: a vending machine that will make you beautiful. Sort of.
Presenting the BeautyMART beauty vending machine. BeautyMART - which launched at Harvey Nichols, Knightsbridge in September 2012 - is a concept boutique stocking an edited selection of favourite products from creators Millie Kendall (of Ruby & Millie) and Anna-Marie Solowij (former beauty director of Vogue). The new vending machine edits this list of favourites even further and makes buying them even easier.
From the hundreds of brands on sale in the BeautyMART – which cover a selection of different price points - Solowij and Kendall have stocked their vending machine with 32 BeautyMART bags. The bags contain a host of different beauty treats and necessities from over 100 beauty brands including Jurlique, Elizabeth Arden and Nadia Narain. The goodies inside range from Dry Shampoo to Dr Jackson's 01 Cream and prices go from £3.45 (that'll get you a posh box of Trinkets tampons) to £98.
The non-chocolate vending machine is already a huge craze in Japan with similar machines stocking pretty much everything from seafood to knickers. We also saw it in London last summer, stocked with new season nail colours at the Chanel pop up store and it seems this fast-track shopping is here to stay.
The BeautyMART vending machine is located on the fourth floor of Harvey Nichols, Knightsbridge and is open for business now. Grab your change purse and take a look.