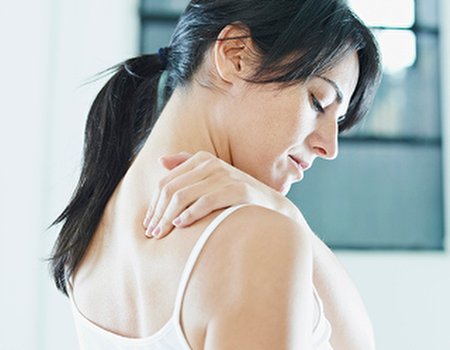 Technology is a wonderful thing isn't it? Without our phones we'd be disconnected, without our straighteners dishevelled and without our GPS we'd be, quite literally, lost. What a shame then that this reliance on technology has to have a downside. We don't just mean mobile phones at the dinner table (although, now we come to mention it, anyone else remember when it was 'no reading at the dinner table'?) it seems our technological dependence is having an adverse effect on our health as a recent study revealed that a whopping 84% of 18-24 year olds have experienced gadget-related back pain in the last 12 months.
The survey, issued to 3,000 adults by newly launched app SimplyHealth BackCare, also revealed that over a third of people in this age bracket have taken time off work due to back pain, adding up to an average of 1.5 days more per year than their parents' generation.
But it's not just working life that's being affected. Far more worrying to some, one fifth of sufferers admitted that back pain was causing them to miss out on sex and a third of sufferers revealed that their condition caused them to feel depressed.
So what does all this have to do with your smart phone? Well the experts at Simply Health believe the trouble to be fuelled by a combination of the rise in the use of hand-held technology and the decline in awareness of good posture. 
Nicknamed the 'iPosture' generation, the fact that these 18-24 year olds do not report pain in the lower back (the area usually associated with back trouble) is further evidence, according to Dr Brian Hammond, Acting CEO and Chairman of BackCare, that over-texting and too much Candy Crush could be the cause. He explained:
"This survey data shows that those in the 18-24 year old bracket are more than twice as likely to experience pain in the middle of the back, and more than three times more likely to have pain around the upper back and back of the neck. Slumping and hunching over computers and hand-held devices appears to be a contributory factor in the difference in types of back pain between the generations."
While some experts are suggesting incorporating old fashioned finishing school style posture lessons in schools, Simplyhealth and BackCare's new app allows users to input data about their back pain to generate tailored advice and exercises, plus details of local specialists – just be careful not to slouch while you're using it.
As well as sitting up and not using your phone at the dinner table, if you are experiencing pain in your mid or upper back (or anywhere else in fact) a massage can work wonders to relieve tension. For a longer term solution you might like to consider A) doing a Lilly Allen and turning to Neo Luddism (aka renouncing technology) or B) taking up yoga or pilates - both of which have been shown to improve posture, alleviate back pain and even promote inner peace. All in all a better use of your time than an hour of Angry Birds. Well, most days anyway.