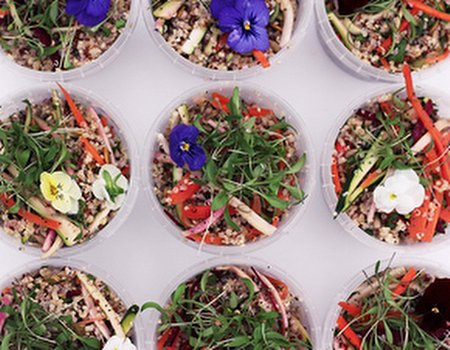 After 40-year-old mother of two Gwyneth Paltrow was named the most beautiful woman in the world by People magazine this year we were all left asking the same two questions. Firstly, what's her secret? And second, how do we get our hands on it in time for summer?
As well as exercising five times a week and sticking to an organic, vegan diet, Paltrow recently revealed another secret weapon on her blog - and it's one we told you about last year. The Detox Kitchen.
Gwyneth's top diet in London 'for vitality, weight loss and ease', The Detox kitchen is a daily food delivery service that takes the fuss out of detoxing. Every morning a package is delivered to your door containing pre-prepared meals designed by the brand's holistic chefs and nutritionists to cleanse the body and mind.
Each package contains a nourishing menu of fresh, seasonal ingredients to take you from breakfast to dinner with a few snacks, supplements and even pudding thrown in for good measure.
Here's what Gwyneth had to say about it: "The Detox Kitchen delivers super fresh, seasonal and detox-friendly meals to your door. Despite the name, you do not have to be on a detox to enjoy their meals – produce-heavy and lightly-portioned, they're great for anyone looking to eat a bit lighter for a day or so or longer. There are a few menus to choose from including The Green Cleanse, which contains green vegetable and apple based juices, snacks, wheatgrass and spirulina shots, and the Vegan and Protein boxes, all wheat-free, sugar-free and dairy-free.'
Founder Lily Simpson wanted to change the way the world thinks about dieting and prove that a healthy menu can be tasty, filling and include a pudding. She says: "I'm amazed (and a little frustrated) at how often I've heard the words 'you can't' in connection with a diet. You can't eat this. You can't have that. I can't live in a perpetual state of deprivation. I'm a chef. I wouldn't eat something if it wasn't tasty – so I want to prove that a 'diet' doesn't have to be faddy, unsatisfying and difficult to stick to. That's why I created Detox Kitchen."
After only five days eating with The Detox Kitchen, users have reported noticeably radiant skin, high energy levels and a weight loss of 4 lbs. Not exactly surprising then that Gwyneth isn't the only celebrity to take notice, the Detox Kitchen also counts Agyness Deyn and Elle Macpherson (AKA the body) among its fans.
Want to try out the latest A-list trend? Check out www.detoxkitchen.co.uk for more details.