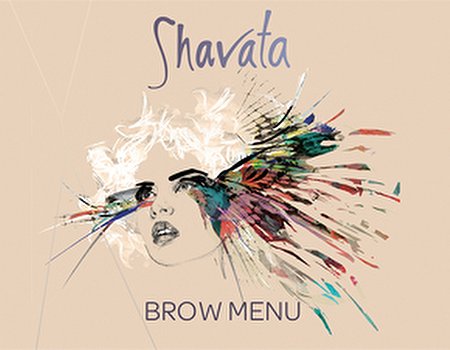 Ever heard the expression 'there aren't enough hours in the day'? We say it on a daily basis. Spending roughly eight hours a day at work, eight hours asleep (we always aim to get our our forty winks) and roughly two hours getting ready for and travelling to and from work, we're left with only six hours of possible me-time.
That's six hours to cook, eat, do washing, look after any children you may have, enjoy hobbies, watch TV and maybe even socialise. Phew! It's a wonder we manage to keep our hair clean and nails painted. If you're already up to your eyebrows with things to do this weekend, make sure you put a visit to the Shavata Brow Studios at the top of your list.
Shavata Brow Studios (home to Shavata aka the expert in brow shaping) has just unveiled its brand new Brow Menu, and it's unlike any we've ever seen before. On the menu customers will find a selection of gorgeous brow shapes, some of which might look a bit familiar. You see, a few of Shavata's styles are inspired by - and named after - the best brows in showbusiness.
Fancy a pair of A-list eyebrows? Choose from the Adele (full and distinctive), the Alexa (a soft, elegant arch), the Agyness (bold and straight) the Kylie (a slim, high arch) and many more. Or if you think you're not quite a Kylie (let's be honest, few of us are) you can combine shapes with the guidance of a Shavata Therapist to create a style that better suits your face shape.
Careful when you're combining brows though, as there are a couple on the menu that aren't for ladies. Having observed some pretty striking male brows in the business, Shavata's Brow Menu also offers a selection of thicker brows and stronger arches. Lucky male customers get to choose between George (a naturally high arch), Brad (a slightly straighter line) and even Jude (curved and shapely). We think we've had a dream a bit like that...
Prices start from £17, so whatever you've got planned for this weekend make sure you squeeze in some tweezin' at Shavata Brow Studios. Perfect for a fun day out with the girls, a spot of emergency grooming, or even a couples' day out – Brangelina eat your heart out.