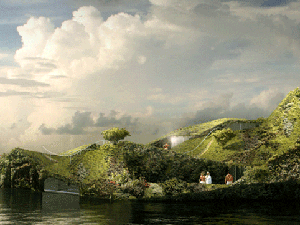 Some days life seems so busy and stressful that even a relaxing spa break won't help. You need something more. You need peace, quiet, nature... and a well-trained masseuse. You need an uninhabited island created solely to relax the mind and restore the body. Well, unfortunately you'll need to wait a couple of years, but if you can hang on until 2014 we've found just the place.
Located on a lake just outside the centre of Amsterdam, the ground-breaking Floating Gardens spa is set to open to the public in 2014.
Designed by Dutch architects Studio Noach, the floating spa is built from recycled polystyrene (coming predominantly from used coffee cups and burger clamshells) which is stronger than steel and – thankfully – buoyant.
As well as its eco-friendly structure, the Floating Gardens will actually benefit the environment by emitting oxygen from a sustainable coating of flowers and plants - created by the inventor of the 'living wall', Patrick Blanc.
But if the spa's unusual location and home-made eco-system aren't quite groundbreaking enough to warrant a visit, know that Floating Gardens will also be offering the most forward thinking treatments based on ideas from across the globe. Michel Kreugar, one of the concept designers from Studio Noach, has travelled the world to find pioneering treatments for the innovative new spa and says:
"Spas should not just offer relaxation and attention, change is what people are looking for."
This change will come from treatments based around ideas like psychoneuroimmunology (how emotions and health are linked and how stress leads to disease) and neuroplasticity (a new science studying the brain's potential for change and ability to adapt, heal and renew itself).
Kreugar promises: "Our spa will offer this wealth of knowledge to its customers".
Kreugar sums up the Floating Gardens with the idea that: "We turn trash into green treasure". We usually like our treasure gold and sparkly but in the case of this incredible sounding spa, we're willing to make an exception. Roll on 2014.