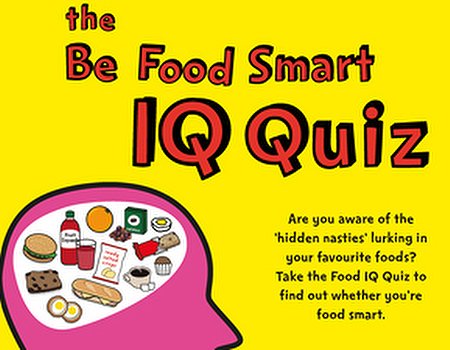 We all know 'an apple a day keeps the doctor away' but when it comes to healthy eating new research from the Department of Health's Change4Life campaign suggests that we as a nation know little else.
The research comes from the initial results of a new Food IQ Quiz launching on Facebook today. The quiz asks questions about the salt, fat and calorie content of some of the nation's favourite drinks, snacks and meals and so far, the results so far show that the UK's food IQ is pretty low.
Of the 2006 adults who took part, over three quarters scored just 50% or less, with 60% of participants unaware of important health information like the maximum daily amount of salt recommended for an adult - it's one teaspoon by the way.
Of the 2006 participants, just three people were able to answer all 12 questions correctly– that's less than 1% - and one in ten people could only answer four questions correctly.
These shocking results show that, scarily, most people in England are not aware of the things in their food that could be causing obesity and putting their health at risk.
What makes the findings even more surprising is the fact that 84% of people surveyed by Change4Life reported that they would like to be healthier. The research explains that despite this willing, factors such as cost and time can get in the way when it comes to choosing healthy options. 69% of people say they prioritise price when food shopping while one in five choose items that are easiest to prepare and 51% of shoppers only buy items they are sure the whole family will eat.
Change4Life campaign ambassador Ainsley Harriott said:
"It's really important to be aware of what hidden nasties may be in your food, and to know what you're putting in your or your family's bodies. Some of our favourite meals, takeaways and snacks contain high amounts of salt, sugar and saturated fat – it's our job to make sure that we know where they are hiding!
"But it is possible to eat well on a budget, and you don't have to give up your family favourites or treats just to be food smart. There are simple changes you can make which will help: try to prepare food at home, cut down on saturated fat, swap high sugar options for lower ones, watch out for hidden salt in foods and check the label on the food you buy."
Did you know that a pre-packed ham and cheese sandwich has more salt than a Chicken Tikka Masala ready meal? Or that a fat-free strawberry yoghurt has more sugar than you take in your coffee? Maybe it's time you put your food knowledge to the test. Head to www.facebook.com/change4life, have a go and prepare to be amazed by some of the results.