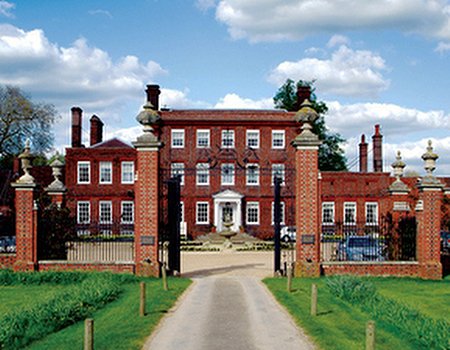 Those of you who took notice of our helpful New Year's Resolution suggestions will already be making plans to increase how much sleep you get in 2013. We all know the health and beauty benefits of getting enough sleep – or at least the detrimental effects of not getting enough – but according to luxury spa resort Champneys, when it comes to slumber, quality is just as important as quantity.
Champneys are hoping to improve the quality of our sleep when they launch their new weekend sleep retreats later this year. Champneys Springs and Henlow (pictured) will welcome Delphi Ellis, the qualified counsellor and TV expert on the subject of Dreams and Nightmares to host two weekend retreats. The 'Refreshing Sleep For Fulfilling Dreams' retrests will focus on healthy sleep, effective stress management and how to embrace the world of dreaming.
It might not feel like it, but on average, we spend about 25 years of our lives sleeping - seven of which are spent dreaming. We have over 2,000 dreams every year, which is handy because science suggests that we need to dream, but most of us pay them little attention. Dreams are something of a specialty for Delphi Ellis who uses Eastern, evidence-based, philosophies to help people explore the life of their dreams.
These sleep retreats will comprise of rest, relaxation and empowering advice to help guests achieve refreshing sleep and explore the secret messages of their dreams, focusing on:
How to improve your concentration, personal performance and feeling of well-being through better sleep
Discovering how to achieve refreshing, rejuvenating and uninterrupted sleep
Empowering techniques to reduce the impact of stress and help you relax
Exploring the powerful, secret messages your dreams contain and 3 simple steps to remembering them
Identifying 5 of the biggest mistakes people make which cause interrupted sleep
The Refreshing Sleep for Fulfilling Dreams weekends will take place at Champneys Springs, Leicestershire from 22nd - 24th March and at Champneys Henlow from the 11th - 13th October and will include:
2 Nights' accommodation
Welcome talk
Two morning workshops (2.5 hrs each)
Aromatherapy back massage (25 mins)
Champneys Pillow Mist
Champneys Dreams CD
Personal journal for recording sleep/dreams (provided by Speaker)
Unlimited use of facilities
Up to 20 different exercise classes per day
Free copy of Delphi Ellis eBook "Stop Worrying, Start Sleeping"
Prices start from £349.95 per person for a two night break and with a long January following a tiring festive season we think places will be booking up fast.
To book your place call Champneys on 0843 316 2222 or visit www.champneys.com