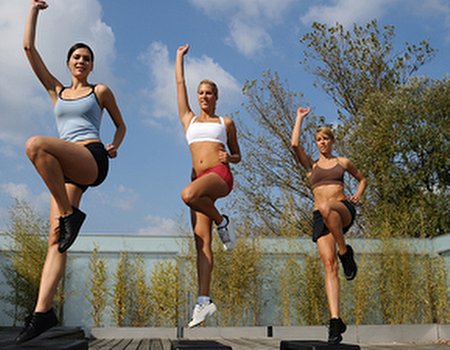 Calling all women with bags of energy, loud voices and a tendency towards bossiness. According to leading Personal Trainer Academy; The Training Room, the UK is in need of more female personal trainers.
Recent figures from the Register of Exercise Professionals (REPs) show that out of a total 13,770 registered Personal Trainers, only 5,256 are women – that's a very small 35%. Whatever happened to Girl Power, eh?
"We train around 2,500 people each year and there is no doubt that personal training as a profession is growing healthily," says Lucy Jackson, head of training at The Training Room. "However, like the rest of the industry, the percentage of women on our courses is low at around 22% and that's something we want to change."
These numbers are particularly surprising as personal training is actually a very flexible career option for women who might be juggling other responsibilities like childcare. Being a personal trainer means plenty of opportunity to teach classes and coach clients one-to-one during school hours as well as early or late shifts allowing flexi-hours.
"We have women of all ages completing our courses – from college leavers and university graduates to mothers and returners to work in their 30s, 40s and 50s" says Jackson. "The more mature students are often seeking a job to fit around their family or as a supplementary income and these ladies bring a huge amount of life skill and empathy to their work."
"The fitness industry offers excellent career opportunities for women," agrees Sue Tibballs, Chief Executive of the Women's Sport and Fitness Foundation. She added "Making young people more aware of these career options would be a great way to keep girls more engaged in sport at school, which is a time when a gender gap in participation starts to emerge."
Tibballs added: "We know that women and girls need strong sporting role models to inspire them to get fit and more female personal trainers can only be a good thing. It's a great time for women to get involved in the fitness industry - successful female athletes, like Jessica Ennis and Laura Trott, have made it aspirational to be fit and healthy and women's fitness is finally entering the mainstream."
Are you up for the challenge? The Training Room course qualifies students with a REPs recognised Level 3 Certificate in Personal Training including a Level 2 Gym Instructor and a Certificate in Group Cycling, Sports Nutrition, Gym-based Boxing and Circuit Training.
There are three course options: intensive Fast Track 6-week Personal Trainer Course, a Part Time Personal Trainer Course and an e-learning Personal Trainer Course. For more information visit www.thetrainingroom.com