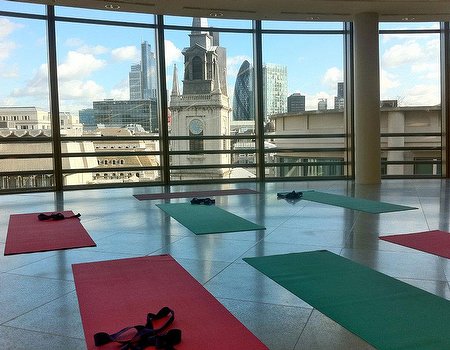 As we come to the end of another long week there's one thing we need: a big glass of…yoga. Or maybe a deep tissue (deeply relaxing) massage now we think about it. Unfortunately when the weekend finally rolls around, it's all too easy to fill up our precious free time with things like lie-ins and snoozes, and forget all about the self improvement we planned during the hours spent slumped over our desk between Monday and Friday. If only there was a way to incorporate a bit of relaxation into our working hours. Actually, thanks to a new service from MILK Beauty there is.
A mobile beauty service delivering treatments in the comfort of homes and offices across North and East London, the City and Canary Wharf, MILK Beauty has teamed up with London based (and brilliantly named) yoga company Stretching the City to launch the De Stress at Your Desk Office Massage and Yoga Service.
Launched this week, the service was designed as a way to bring fun, bonding and relaxation into corporate wellbeing programmes, this new service involves visiting offices and treating hardworking employees to a 15-minute (fully clothed) chair massage and 60 minute 'Board Room Yoga' class.
Created with the office environment in mind, the massages (performed by MILK Beauty massage therapists) focus on relieving tension caused by sitting at a desk for hours, concentrating on the neck, shoulders and upper back without the use of messy (and not wholly office appropriate) oils. Meanwhile, the yoga classes focus on stress-busting breathing techniques and practical yoga postures that can be practiced at your desk and in full work attire without too much embarrassment.
Are you a CEO looking to reward and refresh a hardworking team (all work and no play and all - hint hint)? Perhaps you're a part of said hard-working team, and you think a bit of TLC could really boost company morale… Take a look at MILK Beauty's North and East London venue pages where you can book the service for £240 (for 12 people) and brighten up a slow Friday afternoon in just a few clicks.