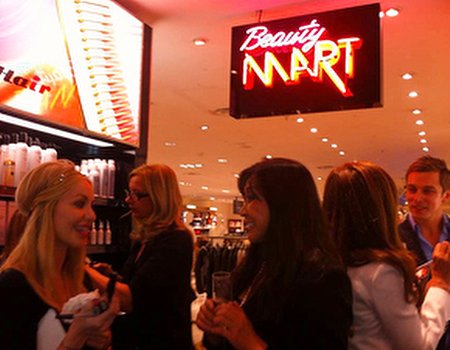 Yesterday at Wahanda we put on our Sunday best and took a trip to Knightsbridge to drink Prosecco and talk beauty with some of the names behind this year's most sought-after beauty products at the Harvey Nichols BeautyMart boutique.
Situated on the third floor of the luxury department store, BeautyMART is a concept boutique stocking an edited selection of beauty products beloved by its creators Millie Kendall (of Ruby & Millie) and Anna-Marie Solowij (former beauty director of Vogue).
Stocking beauty must-haves from Balmain to Rimmel, last night the BeautyMART gave beauty enthusiasts the chance to mingle with experts including make-up artist to the stars Mary Greenwell, tanning aficionado James Read, MUA makeup artist Daniel Sandler, yoga and detox expert Chris James, hair stylist Paul Yacomine and organic skincare expert Simon Ford.
Between filling our baskets and mingling with other guests (including beauty blogger Really Ree), we were able to watch makeup masters Greenwell and Sandler at work and even pick up a few beauty tips from host Millie Kendall MBE. We also got talking to yoga guru Chris James who talked us through the contents of his new (and frankly, amazing-sounding) detox package Mind Body & Cleanse, offering tips on which supplements did what – apparently Milk Thistle is not just for hangovers…
Feeling thoroughly inspired we left with a bag of shopping (oops) and a small case of the hiccups. Feeling nosey? Check out the photos on our Facebook page.