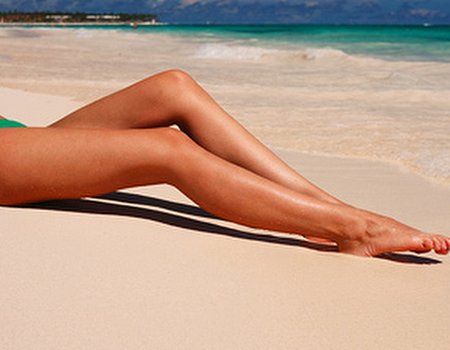 As we find ourselves in a surprisingly sunny May it has dawned on us here at Wahanda that summer holidays are only a matter of weeks away. As is the case every year our summer excitement has come hand in hand with a slight dread at the thought of baring our wobbly bits on the beach and a disappointment for not having stuck to our post-Christmas 'get fit' plan.
Know the feeling? You might be interested to hear about the latest skin firming treatment to hit our shores. Already a huge hit in Hollywood, Venus Freeze is a skin tightening treatment that uses a combination of pulsed magnetic fields and radio frequency to improve cellulite, reduce bodily circumference, and even reduce wrinkles. This revolutionary treatment is set to be the next big thing so if you haven't heard about to yet, you soon will. Here's a start …
What is Venus Freeze?
This anti aging treatment began in the US as an alternative to invasive surgical procedures like facelifts and liposuction. It can be used to treat a manner of bodily complaints including skin tightening, wrinkle reduction and cellulite reduction.
How does it work?
Venus Freeze uses (MP)², a new technology that combines radio frequencies with pulsed magnetic fields. Applied to the skin via a palm-sized pod fitted with electrodes, (MP)² is able to penetrate multiple layers, and heat from the inside out.
By increasing the tissue temperature the FGF-2 hormone (or 'growth factors') is stimulated, enabling the break down of fatty acids in the fat cells. The fatty acids are freed from the cells which, with a few treatments, leads to a circumference reduction (shaving an inch or two of the tummy and thighs) as well as a decrease in the appearance of cellulite.
The reaction creates controlled thermal 'damage' in the skin, triggering the self-repair mechanism of the tissue and causing it to create more collagen and elastin fibres. The increase in these stretchy fibres results in firmer skin, improved elasticity, and, when focussed on the face, a reduction of wrinkles.
The blood flow in the treated area is also improved allowing vitamins, minerals and oxygen to be carried more easily to the cells, and toxins and waste materials to be removed resulting in all-round improved skin tone and texture.
What happens during a treatment?
Venus Freeze can be used to target problem areas of the body or the face. If you are having the treatment on a part of your body you will be asked to lie on a bed (face up or down depending on the area) and adjust your clothes as necessary. Your therapist will then begin to massage your body with a palm-sized pod, focusing on the specified area.
The pod is fitted with eight synchronized electrodes which emit warm magnetic and radio frequencies and feel something like a hot stone massage. Treatments on the body last around 40 minutes and a course of six to ten weekly sessions is recommended. For facial treatments a therapist will use a smaller pod fitted with four electrodes to maneuver easily around the contours of the face. Sessions last approximately 15 minutes and a course of six sessions, spaced out every two weeks, is advised for optimum results.
When will I see the results?
Most patients report noticing results after the third session, and some say even sooner. At the end of a course results will last a minimum of 18 months. That's two summer holidays - quite the investment.
Where can I try it?
Feel Fab Beauty Studio in Clapham prides itself on being up-to-date with the latest health and beauty treatments and they're very excited to be one of the first venues in the country to offer this revolutionary treatment. Fancy yourself as a bit of a trend-setter? Take a look at Feel Fab Beauty's page where you can book Venus Freeze treatments now.