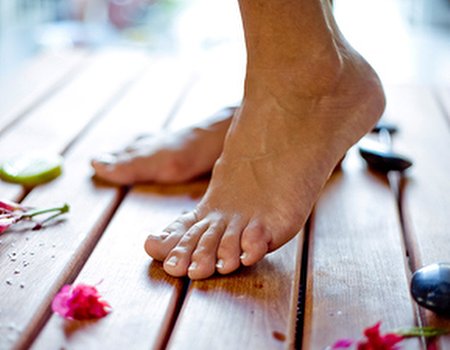 After ringing in the New Year with some highly ambitious dance moves - performed in some equally ambitious heels - and spending the following days trawling the high street for January bargains, our tired tootsies sure are feeling the strain. Whether it's pain from party shoes or cracked heels from cold weather, our poor feet can really suffer this time of year.
We know you've probably got them tucked away in boots or slippers and it seems like years until you'll have to show them off, but winter conditions (particularly central heating) can aggravate foot conditions and now is the time to do something about it. Get ready to put your best foot forward with one of these sole-saving, treats for the feet.
Pedicure
If you're suffering from a case of 'winter feet', a pedicure is a sure-fire way to make them - and you - feel better fast. Most pedicures begin with a relaxing soak to soothe and soften feet before a therapist files away any hard skin from your soles. If you're treating your feet to a luxury pedicure, at this point you might be given a moisturising mask and foot massage before the prettifying begins. Prettifying usually involves clipping, filing and buffing the toenails before polishing them with a shade of your choice. Your feet will be left looking so good you'll be wearing flip-flops in February... maybe.
Massage
Was the end of the festive feet-up period an unpleasant shock to the system? Sounds like you could do with a nice relaxing massage to ease you back into your daily routine. Foot massages are typically gentle and soothing; the idea is simply to relax rather than adjusting or repairing anything. Most massages begin with a quick cleanse before massage oil - refreshing peppermint is particularly popular - is applied and gently rubbed in. A foot massage will combine stroking, pivoting, kneading, finger walking and ankle rotation to stimulate the blood vessels in your feet and create a gentle heat to help relax you. You'll be walking on air afterwards.
Callus peel
There are some beauty treatments that you just know will be wonderfully luxurious and indulgent the minute you hear their seductive name. The Callus Peel isn't one of them. Don't let the name put you off, this treatment is painless, relaxing and great for feet that are plagued by dry, hard skin. A callus peel is a gentle treatment that lasts about 20 minutes. It involves the application of a specially designed skin patch to the bottom of the foot to soften skin before a plastic scraper is used to gently peel off the callus. Once the callus has been removed, the skin is moisturised leaving you nourished, polished and with a whole new spring in your step.
Fish pedicure
If you think your winter feet require more than a gentle peel, it's time to call in the experts: the garra rufa. The garra rufa are not - as you might be imagining - a team of highly trained, exotically named podiatrists, but a species of tiny toothless carp who love nothing more than ridding our feet of dead skin. A fish pedicure involves immersing your feet in a pool of warm water filled with about 100 tiny garra rufa who set to work gently nibbling the dry skin. The treatment is completely painless and regarded as a pleasant experience - albeit a little tickly. Giggles guaranteed.
Socks
If you're new to the whole feet treatment game and you'd rather find your footing in the comfort of your own home Footner Exfoliating Socks might be just what you need. These wonder socks use a formula of carefully selected enzymes and acids that penetrate the layers of dead cells and trigger the natural exfoliation of skin, causing you to shed dead cells. It might sound a little snake-like, but these amazing socks promise to reduce calluses and cracked heels, leaving feet baby soft after just one wear. Sssounds sssuper to ussss.