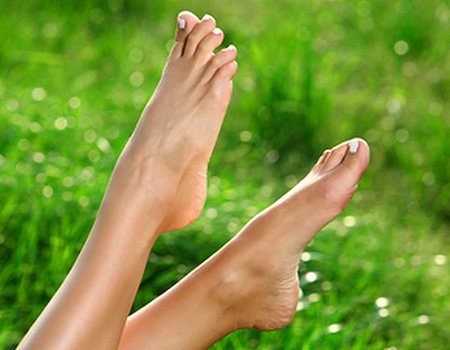 When it comes to beauty trends, here at Wahanda we make it our mission to stay ahead of the game, look to the future and predict the next big thing for hair, makeup and nails. When we peered into the future looking for a sneak peak of nail trends for the next few months, however, we found ourselves in something of a time warp. With retro whites, classic reds and a very futuristic 'negative space' manicure we don't know whether to channel the 1950s, 1960s or something entirely new. Why not all of the above?
Pale nails
Although synonymous with the swinging sixties, there is something undeniably futuristic about this retro trend. After a spring flirtation with very nude shades, nails have been getting paler and paler and this summer brilliant white is one of the must-have colours for clothes, accessories and nails. As beauty trends go this one couldn't be easier, so long as you pick the right polish. Pale colours have a habit of looking much thicker in the bottle than they do on your nail, so to save hours of layering (and a bottle or two of polish) it's worth investing in a good quality white this summer. We love Essie Blanc for an opaque white that will survive more than one trip to the beach.
The new red
Red nails will always be in vogue but with each new season comes a new red. This time we have a few options. Red nails at the spring/summer 2013 shows tended to be striking and a little different. At Monika Chiang they were accessorised with a central streak of silver. At Nicole Miller they were adorned with diamonds and at Roland Mouret a deeper red was used on the tips of nails for a somewhat gothic update on the classic French manicure. However you wear your red this season make sure it's bright. Here at Wahanda we're big fans of Butter London's Pillar Box Red Nail Lacquer. Add a ray of sunshine with a slick of metallic like Topshop's Heart Of Gold.
Negative space
Here's one for any creative types out there, or anyone with a little time on their hands this summer. 'Negative space' might sound like a mathematical problem of some kind, but it's actually a form of nail art that uses your natural nail colour to create shapes and patterns. It might sound tricky but negative space designs are actually quite easy – you just need a pair of tweezers, some masking tape and your favourite polish. Simply cut the masking tape to the size and shape you want to create on your nail and stick it down. Paint over the shape and wait for it to dry (at least five minutes to avoid smudging) then carefully peel off the tape with your tweezers. Finish by painting the entire nail with a clear top coat and Bob's your uncle, beautiful and unique nails.