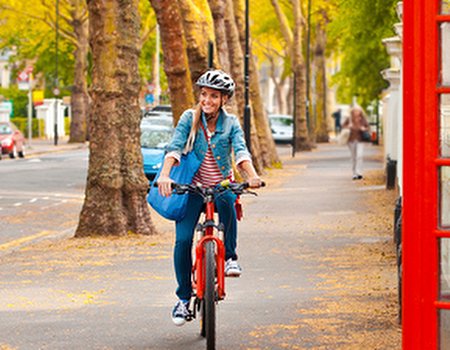 We might be getting ahead of ourselves here but this little spell of warmer weather has got us thinking about about summer. Faced with the prospect of baring our bits in an itsy bitsy bikini in a few months' time (yellow polka dots optional) we've realized it might be time to up the physical activity.
Call it the Olympic-effect but over the last few months cycling sales have been soaring and we can't think of a better way to enjoy these longer (marginally warmer) evenings. If you thought cycling was all lycra, mudflaps and sideburns – no offence Bradley Wiggins – we'd like to inform you that cycling just got stylish. We've got proof and everything...
Why it's so 'now'
According to sweatband.com sales of exercise bikes in the first week of 2013 increased by more than 250% compared to the same week in 2012. With sales of other popular exercise equipment dropping comparatively (rowing machines and cross trainers dropped by more than half in the first week of 2013) CEO Maz Darvish attributed it to the success of a certain British cyclist in last summer's Olympics:
"We're putting it down to the Wiggins Effect, with Team GB and Mr Wiggins inspiring a nation of exercisers to cycle their way to a healthier 2013."
Combine the popularity of Mr Wiggins with government plans for a substantial, one-off investment in cycling infrastructure in 2013 and a few more Boris Bikes in the capital and we've got a full on trend on our handles. We mean hands.
Why cycling's cool
Other than saving money on travel and doing the occasional wheelie there are plenty of perks to saddling up including:
Improved sleep: According to a study by Stanford University School of Medicine, 20-30 minutes of cycling every other day can help us fall asleep quicker. The increase in physical activity tired out a group of sedentary insomnia sufferers cutting the time it took them to drift off by half and increasing their nightly sleep time by almost an hour.
Boost your brain: Another study, this one at Illinois University, found that cycling improved cardio-respiratory fitness by five percent leading to an improvement of up to 15 percent in mental tests. The activity is thought to improve connections between brain regions like the hippocampus (which is responsible for memory and begins to deteriorate at the age of 30 - eek) as well as improving co-ordination and balance, making it a useful tool in the treatment of diseases like Parkinsons.
Lose weight: It's the reason most of us get on the saddle, cycling is one of the most effective ways to lose weight. Not only does it burn calories (anything from 75 – 670 per half an hour according to weightlossresources.co.uk) it also builds muscle and burns fat by exercising all the major muscle groups in the legs: quadriceps, glutei, hamstrings and calves. On top of all that, cycling is low impact so it's easier on the joints than exercises like running and a great way to begin exercising at a heavier weight. It's also fun, sociable and, best of all, it's as easy as riding a bike. Sorry.
How to do it
We're going to go ahead and assume that most of you already know how to ride a bike and launch straight into how to do it in style. In other words, what to wear:
Helmets: Back at school it wasn't always considered the height of fashion to wear a helmet and your mum seemed incredibly 'uncool' for making you, but these days with cycling icons like Bradley Wiggins (Olympic gold medalist and Tour de France winner) encouraging us to wear them, helmets don't seem so bad. Besides, they're smaller and sleeker than ever and available in a range of chic colours and designs - no really. We love this retro pink beauty from www.cyclechic.co.uk.
Clothing: Jackets, gillets, gloves and goggles – these days there is an entire industry devoted to cycling fashion. What you choose to wear depends on personal preference and weather, so while it's probably too early for crop-tops and hotpants (with matching knee and elbow pads of course) check out the full range at www.evanscycles.com.
Accessories: Less of a necessity but a great way to add some personality to a bike ride, we're probably even more excited about spring cycling accessories than we are about cycling our way to our dream bikini body. On the top of our wishlist is this basil blossom saddle cover from evans cycles and the oh so stylish vintage style bicycle pannier from Cyclechic. Tour de France here we come.