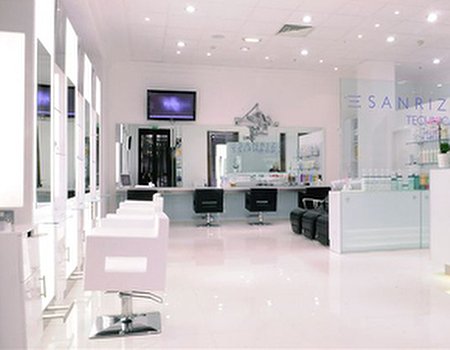 Last week Kate Middleton was crowned the owner of the best hair in Britain when a survey by luxury hair brand Kérastase revealed that 70% of British women wanted to emulate the duchess's 'do. Kate beat fellow hair heroes Cheryl Cole (last year's winner) and Holly Willoughby, who came in at number two and three respectively.
The survey also revealed that 41% of us ladies long for thicker, fuller-looking hair and here at Wahanda, we couldn't help but agree. We too want full, shiny, luscious locks like Kate so we (the Wahanda 'we', not the 'Royal we') set out to find the best place in town for a cut fit for a princess…
Sergio Giannasso
Located on St Martin's Lane in Covent Garden, Sergio Giannasso is a beautiful boutique salon where the staff are dedicated to making their customers feel special with beautiful, unique cuts and fantastic service (which comes, not only with a smile, but a portion of home-made tiramisu). Sergio's is all about creating looks that enhance your individual style and fill you with confidence, something that the team - who understands both hair and makeup - play a big part in. As well as an impressive range of hair services and treatments, customers can book in for personalized makeup sessions, makeup classes and 'Special Night Out Makeup and Hair' sessions with the charming Sergio himself who refers to his salon as "Italian elegance with a London fashion twist". Bellissima.
Patrick Ludde
Situated in the suitably swish Mayfair, Patrick Lüdde prides itself on its expert team, impeccable service and Ludde's famous 'intuition' which tells him in an instant exactly what will work for each customer and how to create it. Ludde, seems to have a natural instinct when it comes to hair, which has made him a highly respected name within industry and won him a few high profile clients throughout his 20 year career - including one well-known royal...and it's not Kate. The salon itself is located a stone's throw from Oxford Circus and is home to 14 hair stations, two beauty rooms and a 'Long Hair Clinic'. Favourite services among customers include the KeraStraight Brazilian Keratin Treatment, permanent waves and red-carpet-ready up-dos – told you it was fancy.
Sanrizz Grovenor House
Sanrizz has many beautiful venues across the country, all of them proud of a reputation for delivering beautiful cuts and up-to-the-minute trends. On our quest to discover a princess-worthy cut it was Sanrizz Grosvenor House (pictured) that caught our eye. Located inside the luxurious 5-star Grosvenor House Hotel on London's affluent Park Lane, this salon provides everything you need (including an expert styling team) to get you ready for those truly special occasions, as well as full colouring and styling services and specialist hair treatments. The atmosphere is relaxed and friendly (although very professional) and the décor is minimalism at it's finest: chic, white and very bright. The hotel plays host to many A-listers and royals throughout the year so any wannabe princesses will be in good company.