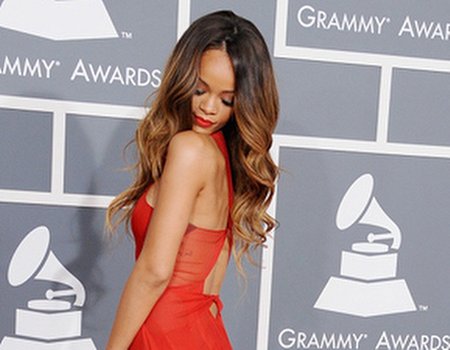 'Rapunzel, Rapunzel, let down your hair!' If fairy tales have taught us anything about romance it's that a leading lady's hair should be down to her feet, strong enough to climb and often act as a home for some adorable animal. Sorry Prince Charming, but that kind of 'do is far too high maintenance for this modern world. We like our locks in a variety of colours, lengths and far too glossy to climb.
So with Valentine's Day approaching, how can us modern ladies get our hair to say 'romance' without spending a fortune on extensions? As we find ourselves in the middle of red carpet season we thought who better to turn to than those expert celebrities (and their unsung stylists) for some A-list inspiration. Watching this week's Bafta and Grammy award ceremonies we couldn't help but notice a trend for hair that was feminine, flattering and modern. Whether you've got a hot date lined up this Thursday, or a night out with the girls we've got a look to suit everyone and every occasion, just ask these ladies…
Rihanna
Even rebellious pop star Rihanna showed off a softer side in time for Valentine's Day, opting to style her usually short, partially shaved hair in long, flowing waves for the Grammys. The mermaid-inspired locks were the perfect finishing touch to her elegant red gown, but we think they'd look just as good going for dinner and a movie. Try for yourself by drying hair with a centre parting and waving the ends with curling tongs or straighteners. Fix with hair spray like [www.boots.com/en/Elnett-Satin-Extra-Strength-Hairspray-400ml_1283/ Elnett Satin Extra Strength] and brush out with a wide tooth comb for a softer, more natural look. For added protection be sure to bring your umbrella-ella-ella. Sorry.
Jessica Chastain
Jessica Chastain showed us how to achieve a traditional romantic look - without resorting to Rapunzel lengths - with her classic Hollywood waves. If you're heading to a posh Valentine's dinner, and want to recreate the look it's simple. Part dry hair to the side, divide the heavier side into sections and use hot tongs to curl hair towards the face. When the entire side is curled move on to the other, again curling towards the face. Spray the entire head with a generous amount of hair spray, leave to set for five minutes then comb through with a fine tooth comb – if every section has been curled the same way you'll start to see a wave pattern. Perfect.
Jennifer Lawrence
Jennifer Lawrence gave a whole new meaning to sleek when she arrived at the Baftas with her usually wavy hair straightened and slicked back. The effect of her dramatic 'do was thoroughly modern, drawing attention to her eyes and letting her fairytale Dior dress do the talking. If you fancy recreating this look minus the designer gown – we think it would work just as well with jeans and a cocktail in hand – celebrity hairdresser Mark Hill recommends spraying Va Va Voom Blow Dry Mousse across the teeth of a wide tooth comb and gently combing your (straightened) hair back and away from your face.
Helen Mirren
What could be more modern, romantic or glamorous than dyeing your hair a soft shade of pink at the age of 67? That's what Helen Mirren did before the Baftas and we think it looks great. Although an unusual colour choice – particularly at Helen's age - the shade isn't too bold or attention seeking, but soft, warming and ever so apt for Valentine's Day. Most importantly, however, the style was neat and the hair in good condition keeping the look demure. If you fancy a change this Valentine's Day make sure you go to a professional colourist to achieve Helen's chic but fun look. Roses might be red but this Valentine's we're all about pink.
Taylor Swift
If you're an old romantic still holding out for that perfect fairy tale ending, take a leaf out of Taylor Swift's look-book and go for a girlish, yet sophisticated braid. Taylor opted for a halo braid, a thin French plait that goes from one side of the face to the other sort of like a head band. If the look is a bit too Heidi or high maintenance for you, a messy side plait is an on trend, feminine alternative. Great for dates, a messy braid is low maintenance, requires only the tiniest spritz of hairspray and (if the date's going well) actually looks better as the night progresses.
Take a look at our favourite Red Carpet hair styles here. Happy Valentine's everyone.
Image from www.grammy.com