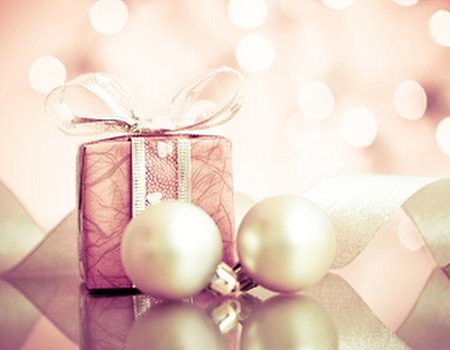 The girl who has everything. She's beautiful, well-dressed, organised and down-right annoying at this time of year. It would seem in every friendship group or family there's one person who's always ahead of the trend when it comes to fashion, beauty and gadgets. Great for her, not so great for the person trying to buy her a gift.
So, what do you get for the girl who has everything? It's an age-old dilemma but we think we've finally cracked it. You can either get her something she already has, won't ever use or even particularly like, or you can get her something a little bit... different. Still stuck? Take a look at our list of the top five suggestions for unusual beauty gifts she probably doesn't own. Oh, and if she does, feel free to send them our way.
Something pretty
Diamonds are a girl's best friend but if your Christmas budget is anything like ours you're probably looking for something pretty that doesn't cost the world. You could go for a scarf but she probably has a few already. Earrings maybe? Always a nice gift, but not too original. How about a vintage, pink and blue floral hair dryer? Not only is it decorative, a good hair dryer is pretty essential so there's a good chance she'll actually use it. Plus everyone knows the prettier the hairdryer the prettier the hair. Ok we made that up, but you get the point.
Something fun
What's the number one thing every woman needs this party season? A little black dress - LBD if you will. So what's the less obvious, number two option?The LBR - that's Little Black Rollers if you didn't know. Or in fact little blonde rollers, depending on hair colour. Famous for their revolutionary range of rollers designed to flatten like a sponge when you lie down, Sleep-In Rollers have now added a roller colour chart to their range to ensure they meet everyone's needs this Christmas. These rollers promise to cross two things off every woman's wish-list: a good night's sleep and big, beautiful hair. So you really can't go wrong.
Something useful
Ok the obligatory socks and pants that are bought for us every year are hardly the most exciting presents under the tree but we have to admit we all wear them. Not all presents have to sing, dance or sparkle. Sometimes the useful presents are the best – that's what our mum told us anyway. So what's useful, quirky and something she won't already own? A heat-resistant, detangling brush shaped like a pair of angel wings, that's what. The Tangle Angel by celebrity hairdresser Richard Ward is anti-bacterial, anti-static and promises gorgeously glossy, tangle-free tresses. It also looks amazing so if she doesn't like it you can pop it on top of the tree.
Something essential
When it comes to buying presents for women, make up is usually a safe choice. Unless, of course you're buying for someone particularly picky, or the owner of a make-up collection to rival the Selfridges beauty hall. How can you ever be sure you've chosen a shade she'll like and doesn't already have three of? Well you can't always, that's why we're suggesting you but the one beauty essential you can successfully choose for someone else: the make up bag. We love this 'Real –life Photoshop for My Face' slogan one from notonthehighstreet.com. It's funny, cute and incredibly useful – a bit like us really.
Something special
If you're shopping for someone really special to you, you don't know what to get but a hairbrush won't cut it, you've come to the right place. How about a Wahanda gift voucher. Our vouchers are accepted at hundreds of the best spas, salons, health farms, hotel spas, yoga studios and gyms nationwide meaning lucky recipients can use them to treat themselves to something they really want. Besides, no matter how many pairs of shoes or how extensive a wardrobe, you can never have enough spa treatments.