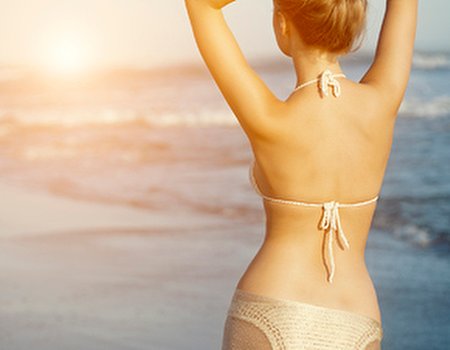 This weekend marks the official start of summer in the UK and while it might not be bikini weather just yet we've got a feeling that glorious sunshine is just around the corner. When it arrives we plan to make the most of it, which is why, here at Wahanda, we've devoted the last couple of weeks to getting summer-ready fast.
Now, with only a few weeks until summer holidays, our nails are brighter, our teeth are whiter and we don't have a hair out of place (anywhere) and it's all thanks to a few 30 minute treatments. If you haven't been keeping up with our plan don't worry, we've made the process even more efficient by rounding up the five top to toe 'quickfix' treatments that have proved most popular with you lot. Got a spare half an hour? Here's what you can do...
Wash and blow dry
After sunburn one of the biggest beauty blights of the summer has to do with your 'do. Whether you're prone to frizz or flatness, humidity can play havoc with your hair. Don't let your locks lack lustre this season, smooth away frizz or add some volume with a beautiful, bouncy blow-dry. If you've got an important meeting in the calendar or post-work drinks, head to Fairfax in Westminster on your lunch break, treat yourself to a 30 minute wash and blowdry and get 32% off for a limited time. Then head back to your desk or, better yet, the pub and wait for the Kate Middleton comparisons to begin.
Teeth clean
Picnics, barbecues, weddings, holidays and glamping. Summer is just one big Kodak moment waiting to happen and with camera-phones in every pocket nowhere is safe. Get through camera season without too much de-tagging by making sure your teeth are at their pearly white best. Transform your smile in half an hour with a teeth clean, gum check and polish at Smilepod in Covent Garden. For a limited period Smilepod will are giving us even more reason to smile awith 30% off this great treatment. Show off the results with this summer's must-have bold lips and get ready for your close-up. Say cheese…
Brazilian hot wax
Things to remember before heading to the beach: sun cream, towel, bucket and spade and above all a wax. Feel confident in your bikini this summer with a visit to the waxing whizzes at The Waxing Suite at Dappa Hair Boutique in Chalk Farm. Their Brazilian hot wax has proved a hit with Wahanderers with some of you naming it the least painful wax you've ever had. Well it's certainly less painful than a summer of shaving or wearing shorts on the beach - just think of the tan lines. Best of all, Dappa are offerring Wahanda customers 35% off for a limited time which might ease the pain even more.
30 minute massage
When you're having 'one of those days' at work there are a few options to improve the situation. You could feign a headache and go home early, cry into a bag of Maltesers at your desk, or nip out for a massage on your lunch break and return the picture of calm and serenity. Here at Wahanda we're all about the latter so if you feel like trading your Maltesers for a massage we know just the place: The Runway in Westminster. Their 30 minute Shoulders, Neck and Scalp Massage will rid you of any knots or stresses that are standing in the way of your summer and they're offerring an amazing 42% off for a limited time.
Gel nails
Ever gone to admire your nail colour on holiday only to find that somewhere between checkin and the pool your beautifully polished nails have transformed into something sticky and smudgy? Don't worry, you're not melting its just that, on your nails or in a bottle, nail polish does not respond well to heat. Avoid a meltdown this summer with 37% off a set of long-lasting gel nails by Jade Angel at Czaro, Oxford Circus. 30 minutes of filing, buffing, painting and setting will see you through at least two weeks of the summer with gorgeous, glossy, chip-free nails.