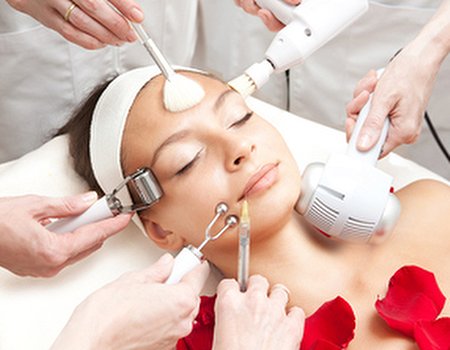 We like to think that health and beauty is sort of 'our thing'. Like all good experts, we've spent years researching the best products and treatments and while we've found lots of great ones we can't help thinking of all the wonderful treatments that are yet to be invented.
Optimists that we are, we picture a future where science and technology have solved all of our beauty dilemmas. We'll have creams that nip and tuck, supplements that fix everything from a broken nail to crooked teeth, and the gym will be a thing of the past that horrifies school children in their history lessons. But until that day comes there are some pretty great alternatives out there. Take a look at our list of the latest, greatest products and treatments that science has to offer – we'll call them the prototypes.
Anti-ageing
Our beauty complaints are as individual to us as our fingerprints (we're quite happy with our finger prints by the way) but there's one beauty worry that we all have in common: ageing. Science has already provided some effective ways to delay the ageing process but most are expensive, risky or downright scary. Don't fancy going under the needle or knife? Try a non-surgical face-lift like the CACI facial, an electronic beauty treatment that firms your face by toning muscles, ironing out creases and lines and preventing skin-sagging.
Get perfect hair
Curly or straight, when it comes to hair, the grass is always greener. Wouldn't it be great if there was a quick fix treatment that could smooth out curls and give straight hair an instant wave? Well, there isn't. There are, however, a few handy tools that can make things much easier. Like the Mini Beach Waves Styling Tong from Diva – the quickest way to all over waves that we've ever come across. Or if your waves are the problem, try a Brazilian blow dry, the long-lasting, frizz-smoothing answer to unwanted curls. Perfect for this time of year, the Brazilian blow dry is a bit like a perm, but straightens instead of curling... and is a bit more glamorous.
Forget the gym
We think we speak for men and women throughout the world when we say we're waiting for an effortless way to lose weight. Sorry to break it to you, but we reckon it's going to be a long wait before we discover something more effective than good old exercise. If it's a bit of toning you're after, there are a number of treatments that can help you firm up without hitting the gym. From fluid-shedding body wraps to freezing flab or even zapping it with electric currents, science has already provided us with some great options.
Grow eyelashes
Remember that bit in Alice in Wonderland when Alice eats the cake and grows ten foot tall? If only cakes like this really existed, and if only they worked on eyelashes. OK, we've really run away with ourselves here, but it's a nice idea. While we work on our baking skills, you might fancy trying out eyelash extensions, the quick and easy way to the longer, fuller lashes you've always dreamed of. Eyelash extensions can last for a number of weeks, meaning no more mornings spent meticulously applying mascara - you can even get the equivalent in a bottle with Divaderme's brush on lashes. Just think of all that extra beauty sleep!
Get a flawless complexion
Whether it's dry, oily or particularly prone to break outs, most of us would change something about our skin. It doesn't help being surrounded by airbrushed images of flawless celebs. If only we could airbrush in real life! Well actually, you don't need to wait so long for this one thanks to Airbase Makeup. Created by Oscar Nominated make-up artist Anni Buchanan, Airbase Makeup is a blend of film and everyday makeup, providing wearers with a flawless finish that is long-lasting and requires no touch ups. The perfecting primer is the perfect way to protect against makeup-impairing weather. Hear that, wind? We're not scared of you.