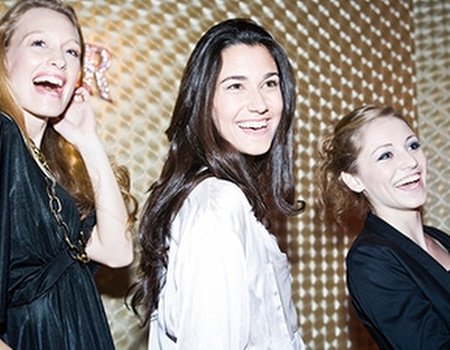 It's November, which means that for excitable children across the world the Christmas countdown is beginning. While they're busily writing lists and wishing the days away, the adults are getting excited about a different kind of festive season: party season. Christmas might still be a little while away but in the next few weeks don't be surprised if early festive cheer takes hold of some of your friends and colleagues and you find yourself juggling post-work drinks, office parties and friendly catch ups.
The closer it gets to Christmas the more dos you'll have to attend and the less time you'll have to prepare. While we've still got a few weeks we thought we'd make a head start and think about the items that help us get party ready, fast. Since no one wants to spoil the effect of a little black dress with a Mary Poppins-style bag, we've narrowed it down to these top five handbag-friendly beauty essentials to keep with you during party season.
All in one
Save yourself money and valuable handbag space by investing in an all-in-one makeup palette this season. A good palette should contain a few products that you use regularly - not just one eyeshadow you love but can't find individually. We love Benefit's [ http://www.benefitcosmetics.co.uk/product/view/finding-mr-bright brightening MANual: finding mr bright]. Anything brightening is a huge plus when you're freshening up after a long day at the office and this kit has it all including concealer, blush, highlighter and a pearly finishing cream for a luminous complexion. Time to shine.
Lipstick
Apart from changing your outfit, a dash of bright lipstick is the best way to transform a work-look and get glam before a party. Best of all, lipsticks were designed to fit in handbags. Bold lips are big this winter, with bright red and dark berry shades dominating autumn/winter 12/13 catwalks. Don't be afraid to go for something eye-catching, and make sure the finish is matte. Topshop's Lips In Wicked for is a little bit gothic and ever so wintry. Or for something a little more festive we love Revlon Matte Lipstick in Really Red - Rudolph would be proud.
A powder compact
Many of us already carry around some sort of powder compact and are well aware of the look-repairing powers of a dab of powder. As the day wears on and makeup wears away, applying powder can restore the flawless finish you had when you left the house, and is a particular life-saver to anyone with an oily complexion. If you don't already have one, a powder compact is a must for refreshing tired skin and getting you photo-ready during party season. What's more, with all those canapes floating around a hand-size mirror might just save you from food in teeth embarrassment. Phew.
Eyeliner
When you imagine all the different, dramatic effects you can achieve with a bit of eyeliner it's hard to believe it comes in so small a package. A black eyeliner is a handbag's best friend during party season – as long as you don't leave the lid off. Use it to line the inside of your lower lid for a smokey look or along the lashes on your top lid, finishing with a chic 'ready to party' flick. Replace the lid, put it away then use later to draw moustaches on any colleagues who might have had a bit too much mulled wine.
Perfume
Now that you look the part, complete your transformation with a good spray of your signature scent. Toting around your favourite bottle of expensive perfume risks losing or breaking it – not to mention taking up precious handbag space. Avoid unnecessary tears this party season and get yourself a travel atomiser. Atomisers are easy to fill, hard to break, and – you guessed it – they fit beautifully in any handbag. Best of all they hold up to 50 sprays of perfume, enough to see even the biggest perfume fans through to the new year.