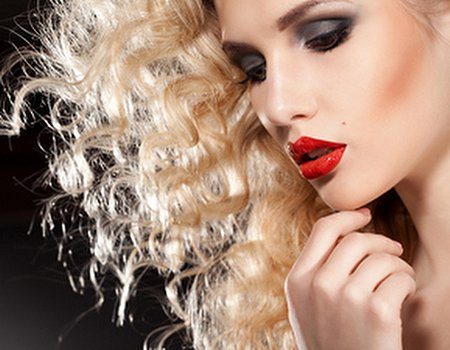 For some of us, party season is the most exciting time of the year. It's an opportunity to meet new people, bond with colleagues and catch up with friends – not to mention show off a flattering new outfit. For others though, all this going out, staying up and dressing to the nines can seem a little daunting.
We understand this. When we have a party to attend we like to be able to plan our outfit, manicure our nails and spend a couple of hours on hair and makeup. But at this time of year when invitations and impromptu drinks take over our calendar - even on school nights - rushing from desk to bar leaves little time to prepare. We've tried styling our hair en route and applying make up in the back of a taxi, but always end up arriving feeling flustered and windswept with smudged lippy and eyeliner on our cheeks. So how do some people make it through party season looking flawless at every opportunity? They cheat, and here's how...
Eyeliner
No matter how skilled you are with an eyeliner brush, when you're in a rush frantic hands can struggle to keep things neat and even. Want impressive eye makeup in an instant? Say hello to our new best friend: instant eyeliner. Eye Rock, Designer Liner work like transfers for your eyelids, giving you dramatic peepers in seconds. Make sure your skin is clean and dry, then use tweezers to peel an eyeliner design off its backing paper and position on the eyelid and press with fingers. With four designs per pack these designer liners will keep your look fresh, flawless and incredibly eye catching throughout party season.
Luscious lashes
You're running late, your friends are calling to ask where you are and you still haven't finished up your last bit of work for the day. With your mouse in one hand and concealer in the other you realise that there's no way you'll be able to apply those tricky false eyelashes and make it out in time for happy hour. Stay calm and be prepared instead by using eyelash growth serum Long Sexy Lashes from The Powder Lounge to cheat your way to longer fuller lashes. A daily sweep of this wonder-serum nourishes the eyelash root, stimulating blood circulation to the follicle, aiding growth while conditioning the hair, protecting new lashes and preventing breakages. Phew.
Get cheeky
If there's one part of the getting ready process that should never be rushed, it's the application of blush or bronzer. We learned the hard way that it should be applied carefully and under good lighting to add subtle colour and define cheekbones - rush it and you might end up red-faced. Life would be much easier if you could sweep on blusher whenever, wherever and it would sculpt and shade itself. Well thanks to Perfekt Beauty you sort of can. Their Cheek Perfection Gel now comes in a sheer peach colour which adjusts to your natural skin tone for a perfect colour match. Best of all the gel helps increase collagen production, restoring moisture and plumping the skin – hello cheek bones. Then to top it all off the formula helps reduce the appearance of fine lines and wrinkles while anti oxidants work on enlarged pores, shine and skin irritations, meaning that after a week of late nights you can still cheat your way to flawless skin. Shhh, it's our little secret.